Local Nielsen ratings snapshot (Fri.-Sun., Feb. 21-23) -- delayed Daytona 500 catches, passes Olympics closing ceremonies
02/24/14 11:02 AM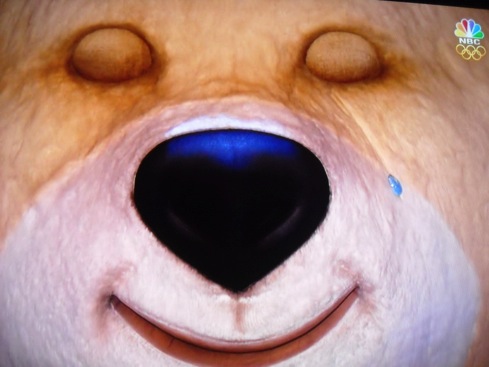 Misha the Russian bear could hardly bear to see the Olympics end.
Photo: Ed Bark
By ED BARK
@unclebarkycom on Twitter
In an unanticipated prime-time clash, Fox's rain-delayed Daytona 500 went directly against NBC's Winter Olympics closing ceremonies Sunday.
NASCAR eventually won the ratings checkered flag, although neither attraction could match the still enormous pulling power of AMC's
The Walking Dead
.
The picturesque pageantry from Sochi ran first from 7:30 to 8 p.m. with 369,268 D-FW viewers and 133,525 within the advertiser-treasured 18-to-49 age range.
Walking Dead
then commanded the 8 p.m. hour with 390,572 total viewers and an extraordinary 299,616 in the 18-to-49 demographic. That's a huge percentage. In comparison, the 8 to 9 p.m. portion of the closing ceremonies had respective totals of 340,862 and 113,985 viewers.
The Daytona 500 then kicked in, outdrawing the Olympics from 9 to 9:30 p.m. Daytona had 262,748 viewers in that half-hour segment while the closeout of the Winter Games pulled in 191,735 viewers before giving way at 9:36 p.m. to a commercial-free preview episode of the new NBC sitcom
Growing Up Fisher
. Among 18-to-49-year-olds, Daytona won easily from 9 to 9:30 p.m. by a score of 133,525 to 61,877 viewers.
Daytona ended at 10:18 p.m., with
Growing Up Fisher
no match for it in either ratings measurement. (By the way, Dale Earnhardt Jr. won, even though
Fox News committed a major gaffe
earlier Sunday by declaring Jimmie Johnson a three-time Daytona champ. That "news" came from Fox's replay of the 2013 Daytona -- which Johnson won -- during the long rain delay between the start and finish of the 2014 race. Fox later apologized.)
Also on Sunday night, PBS' disappointingly tepid season finale of
Downton Abbey
drew 170,431 total viewers. Just 19,540 were in the 18-to-49 age range.
On Saturday, NBC's prime-time Olympics coverage won despite drawing its smallest overall crowd in all 18 nights of coverage. An average of 262,748 total viewers partook. The Peacock's post-Olympics preview episode of the new sitcom
About a Boy
had 234,343 total viewers, losing its time slot to WFAA8's 10 p.m. newscast (255,647 viewers).
About a Boy
won among 18-to-49-year-olds, though, with WFAA8's news a solid second.
Friday night's Olympics package also won from start to stop with 305,356 total viewers. It ended at 10 p.m. instead of the usual 10:30 p.m., giving Jimmy Fallon's
Tonight Show
its only on-time start of the week. Fallon and his only guest, Justin Timberlake, rolled to a total of 220,140 viewers, with 130,268 in the 18-to-49 motherlode.
Opponents David Letterman and Jimmy Kimmel each drew a comparatively paltry 56,810 total viewers. Kimmel edged Letterman for a distant second among 18-to-49-year-olds by a score of 22,797 to 19,540.
Here are Friday's local news derby numbers, with just three weekdays now left in the February "sweeps" ratings period.
NBC5 had the most total viewers at 10 p.m. while tying WFAA8 for the top spot among 25-to-54-year-olds (main advertiser target audience for news programming).
Fox4 swept both the 6 a.m. and 5 p.m. competitions while adding a 6 p.m. gold with 25-to-54-year-olds. NBC5 had the most total viewers at 6 p.m.
Email comments or questions to:
unclebarky@verizon.net