News anchors Campos and McCaa hope to join sports anchor Hansen in continuation of WFAA8's longstanding "Big Three"
01/30/12 12:11 PM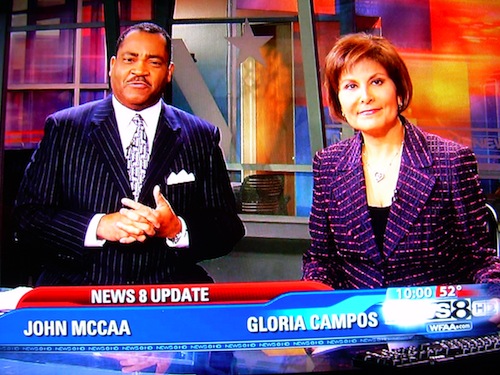 Anchors John McCaa and Gloria Campos both joined WFAA8 in 1984.
Photo: Ed Bark
By ED BARK
The Big Three of
Dallas
-- Larry Hagman, Linda Gray and Patrick Duffy -- will remain together in a continuation of the series this summer on TNT.
But what about the Big Three of Dallas-based WFAA8?
As
previously reported on unclebarky.com
, sports anchor Dale Hansen recently signed a three-year contract extension that will keep him at the station through 2016 and past his 68th birthday. He joined WFAA8 in 1983 after being fired by cross-town rival KDFW-TV (now better known as Fox4). The price of continuing to do business with WFAA8 will be a 32 percent pay cut, "which I am absolutely fine with," Hansen said.
Anchors Gloria Campos and John McCaa, both of whom joined WFAA8 in 1984, say they also are hopeful of signing new deals -- with salary reductions as part of the bargain. Since August 2002 they've been co-anchors of the station's marquee 10 p.m. weeknight newscasts, following an earlier tri-anchor rotation that also included former WFAA8 staffer Scott Sams.
Campos said she's in preliminary talks with management on extending a contract that expires in September of this year.
"I fully expect to have a new deal that will include a pay cut and a reduction of duties," she said in an email response. "We haven't hammered that out but I was told they want me to continue to co-anchor the 10 p.m. news. Not much more to say at this point."
McCaa, in a separate response, said he expects to "soon" be discussing a new contract with station management. "I think we all realize there is a different environment in which the whole industry finds itself -- indeed the whole country."
McCaa and Campos were D-FW's first and remain the market's only minority anchor team in the high-profile 10 p.m. news slot. They also co-anchor WFAA8's 6 p.m. newscasts.
For the past several years, WFAA8 and CBS11 have been locked in down-to-the-wire battles for the Nielsen ratings leadership at 10 p.m. WFAA8 won the four-week November "sweeps" in the two key newscast measurements -- total viewers and 25-to-54-year-olds. The February sweeps start on Thursday.
WFAA8 president and general manager Mike Devlin said via email last week that he wants no more inquiries from unclebarky.com.
"Stop emailing me," he said. "Put a 'no comment' by my name."