This just in: A night in the lives of D-FW's late night newscasts (Wed., May 14)
05/15/08 03:38 PM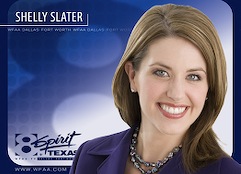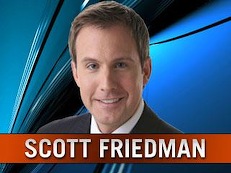 Strong work from WFAA8's Shelly Slater, NBC5's Scott Friedman.
By ED BARK
Believe it or not, it's more satisfying to point out the pluses in local TV news reporting than to twit the more than abundant minuses at some stations.
Wednesday's late nighters had ample positives, so let's go to the videotape for some whip-around highlights.
***
WFAA8's
Shelly Slater
had a telling progress -- or more accurately, regress -- report on projected completion of the controversial Trinity Toll Road. Timetables promised during last year's Dallas mayoral race since have fallen well off track, she said. An admitted "schedule slip" has put the project at least 14-to-15 months behind its scheduled 2013 reality.
"Every month (of delay) is worth about $10 million (in taxpayer money)," mayor Tom Leppert said.
An initial projected cost of $1.3 billion has been inflated to between $1.1 billion and $2.1 billion, Slater said. Reports like these take time, and a station's commitment to provide it.
***
On fast-paced NBC5, reporter
Scott Friedman
is the only staffer who seems to occasionally be getting more than the station's standard 90 seconds to tell a story. He's also been anchoring weekends, making him only a part-time player on NBC5's late nighter.
Friedman had what seemed to be a solid and non-sensational story Wednesday on how embattled American Airlines might well be "saving fuel at the expense of safety."
At issue are the recently deployed high-speed tugs that can tow a jumbo jet without its expending any fuel. At night, the planes have their lights off because running them would require burning extra energy, Friedman said.
Last month, during daylight hours, an incoming American Airlines plane barely missed hitting a plane that inadvertently was towed onto a runway path. The pilot in essence managed to hop over the plane after sighting it.
"These big planes can be hard to see at night," D-FW airport spokesman and former local TV reporter Ken Capps acknowledged. "And that could pose a problem." American Airlines, in a statement, said it's studying it.
Friedman appeared to have done his homework, and was given extra time to present a balanced account.
AND IN OTHER NEWS . . .***
WFAA8's
Steve Stoler, this time with help from colleague Craig Civale, followed up on an exclusive Tuesday night story about a Catholic priest who abruptly resigned from his McKinney parish after being linked to a now defunct Web site for gay priests.

The site allegedly was a place where men of the cloth could find sexual partners. But supporters from the priest's previous parish in Lancaster supported him on-camera and said he had removed his name from the site back in January 2000 after finding it objectionable.

"And we would certainly take him back if the bishop saw fit," a supporter from the Lancaster parish told Stoler.

The Dallas diocese is investigating the matter, which WFAA8 has handled very responsibly.

***CBS11's Stephanie Lucero easily has done the best reporting on the tragic death of a mother who was beaten to death with a baseball bat by her estranged husband, who's now in jail after threatening to jump off a bridge.

On Wednesday night, she interviewed the deceased's mother and boyfriend, both of whom understandably fear for their safety if Brent Stephens is ever released.

***Fox4 consumer Steve Noviello had another fun and informative time testing the "Deal or Dud" potential of those frequently advertised Debbie Meyer Green Bags.

They purportedly extend the lives of fruits and vegetables. And Noviello, with an assist from a veteran supermarket produce overseer, discovered that they in fact do just that.

As noted before, Noviello should find a way to syndicate this weekly feature. At the very least, Fox4 could throw out a monthly special at 6:30 p.m., where the syndicated rag mag Access Hollywood otherwise fouls the weeknight air.

***WFAA8's Gary Reaves had a nice feel-good story on a troubled-youth mentoring program called UMOJA, which is swahili for "unity." And CBS11's Jack Fink alerted the Texas Department of Transportation (TXDOT) to a money-wasting roadside sprinkler system that sprays an access road/parkway off Central Expwy. on a daily early morning basis, rain or shine. It supposedly will be fixed.

***Finally, CBS sports anchor Babe Laufenberg deftly zinged Cowboys' receiver Terrell Owens and his guest cameo on Wednesday night's Under One Roof sitcom on MY27.

"He played a con man trying to get money from a wealthy man," Laufenberg said of the episode, which attracted a very smallish 26,792 D-FW homes. "Doesn't sound far off from his deals with Jerry Jones."

Babe wasn't quite done. "From Flavor Flav (the show's star), let's go back to Doug E. Fresh and Karen," he said of anchors Doug Dunbar and Karen Borta.

Hey, not bad.

Five nights to go.