This just in: A night in the lives of D-FW's late night newscasts (Mon., May 11)
05/12/09 04:02 PM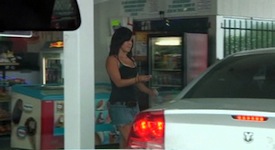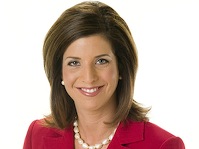 NBC5's Ellen Goldberg and "Beer Babe" photo from station's Web site
By ED BARK
"Beer babes at work."
Well, at least it livened up an otherwise pretty dull news night when saucy NBC5 news anchor
Jane McGarry
greeted viewers with those words at the start of Monday's 10 p.m. presentation.
McGarry further primed the pump -- "Parents say the sexy dancing and skimpy clothes are just too much" -- before handing it off to reporter
Ellen Goldberg
, stationed live in Cockrell Hill.
Only one parent pointedly objected, but that's all it takes when a station resorts to selling sex in a ratings sweeps period by doing a story on selling sex. Basically, the so-called "beer babes" are human billboards for watering holes along Jefferson Blvd.
"I mean, this is something you would see in a strip bar," said the indignant, plus-sized parent, who wants owners of the businesses to "clean the girls up."
The beer barns are located near C.M. Soto Jr. Elementary, but aren't violating any city ordinances, said Cockrell Hill mayor Luis Carrera. Goldberg noted that when NBC5 arrived, the beer babe pictured above ducked inside and "returned in more conservative fare."
So much so that Goldberg showed almost as much skin during her opening and closing standups. But the "beer babe" gambit so far has generated more than 50 comments to
nbcdfw.com.
So there.
CBS11 topped its 10 p.m. newscast with a far more useful -- but decidedly less promotable -- story by
Jay Gormley
. He reported on the latest batch of high-tech surveillance cams being installed with an eye to protecting the Dallas citizenry. Eleven are going up in the high-traffic Uptown district, bringing the citywide total to 98, Gormley told viewers.
Police say they significantly increase the potential for nabbing wrongdoers. So far this year, cops have responded to 1,889 camera-involved calls and made 561 arrests, Gormley said. When not caught on camera, the arrest rate drops to 10 percent.
Maybe surveillance cams should be deployed in Cockrell Hill's "Beer Babes" district. That way Goldberg and NBC5 would have their pick of titillating footage rather than having to watch their prey duck, run and emerge in veritable nun's garb.
GOOD WORK
-- WFAA8's
Jason Whitely
, who sounds an awful lot like the station's
Brett Shipp
, took the 10 p.m. newscast into battle with a lead story on a mass auction of homes in Dallas' struggling Hacienda del Sol neighborhood. Bidding will start at $1,000 apiece on eight homes once valued at up to $200 grand each.
***
NBC5's always intrepid
Randy McIlwain
reported on a Frisco subdivision whose contaminated water discolors clothing and ruins air-conditioning units besides tasting bad. Its residents would like some relief.
The Peacock's
Meredith Land
had a local business story of import that rival stations ignored on Monday's late nighters. Plano-based Dr. Pepper has just signed a deal with McDonald's. It now will be included on the drink menu in all 14,000 restaurants instead of the current 8,500.
"It's the Holy Grail for us," said a Pepper exec. Bounced is Coke's Powerade.
***Ken Kalthoff
, also of NBC5, had an interesting report on the city of Dallas' antiquated, 25-year-old mainframe computer system. Members of the City Council want it replaced post haste, but have yet to approve funding "in this very tough budget year," Kalthoff said.
***
On Fox4, reporter
Peter Daut
told of a woman whose twins are the product of two different fathers. There are only a handful of such documented cases in the world, he said. The mother's fiance says he's forgiven her infidelity. The other man in the picture isn't being told he's a dad, although this story just might wise him up.
HAD A FEW, HAVE WE?
-- NBC5 sportscaster
Matt Barrie
again got all revved up Monday night while reporting live from outside the American Airlines Center, where it was halftime of Game 4 between the Dallas Mavericks and Denver Nuggets.
After finishing up, Barrie informed "beautiful people" McGarry and co-anchor
Mike Snyder
that he'd be heading back inside to watch the second half. Snyder wondered if he really wanted to do that, since the Mavs seemed overmatched by the Nugs.
"I'm gonna call it, Mavs are win it!" Barrie blurted, forgetting to insert another "gonna" or something between "are" and "win."
"Ooh, go out on that limb. We'll give you the saw to cut it off with," said Snyder, who
tangled with Barrie Friday night
during an exchange on a new line of underwear named after Florida Gators QB Tim Tebow.
Frankly, Barrie looked a bit buzzed Monday, although it's kind of hard to tell with him. Some anchors and reporters can be over the top, but Barrie's in a league of his own. He might want to try bottling his sweat and selling it as Jolt Cola.
DRUM SHTICK
-- WFAA8 news anchor
John McCaa
sat in with The Pit Pops during some of his down time between the 6 and 10 p.m. newscasts. The station showed footage of him drumming along with the group in Victory Plaza, storied site of last week's five-night "Rumble" between sports anchor
Dale Hansen
and weathercaster
Pete Delkus
.
"Gloria, by the way, will be singing over in Deep Ellum," Hansen later jabbed, referring to news anchor
Gloria Campos
.
HAMMERING CUBAN
-- When it's not Jerry Jones, Hansen's favorite target is Dallas Mavericks' owner Mark Cuban. On Sunday night, his
Sports Special
analyzed Cuban's alleged on-court shove of a TV cameraman as though it were the Zapruder film. On Monday, Hansen had a different angle.
"It was after Game 3 Saturday that Mavericks owner Mark Cuban made a fool of himself again," he told viewers. "Tells the mom of Nuggets forward Kenyon Martin her son's a punk. Say it to Martin if you want, and I doubt that he does. But you don't say it to the mom. Unless you're Cuban."
Cuban since has apologized on his
blog
. He declined to respond to Hansen, though, saying there was "no point" in doing so via an email to unclebarky.com.
So as usual, Hansen gets the last word. And he likes it like that.
Seven more nights to go.