Matt Quinn: a one of a kind reporter for WFAA8 (updated)
04/10/09 12:41 PM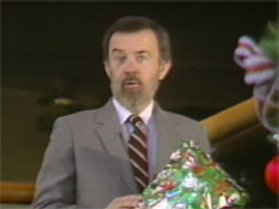 Matt Quinn in photo from WFAA8 web siteBy ED BARK
Former WFAA8 reporter Matt Quinn and his wife, Cathy, a television producer, were killed Thursday by wildfires that decimated their home in rural Montague County.
Quinn, who joined the Dallas-based station in 1980 from ABC News, excelled as an off-the-beaten path reporter who didn't much like being on camera himself.
"Matt was so good at many things, but he did not like doing live shots," recalls WFAA8 photographer Tim Auman, who collaborated with Quinn on many of his distinctive pieces. "That was one thing he did not do particularly well. Matt did not want to be in the story."
Quinn, 80, remained with WFAA8 until 1992, and had been retired for several years. He didn't enjoy the constant comings and goings tied to being a reporter at the network level, and quit ABC News after just two years to join WFAA8 under legendary news director Marty Haag.
In a 1989 interview with this writer, Quinn remembered returning from a network assignment in Topeka, Kansas without any recollection of why he was there. Years later he still couldn't remember.
"That was really scary," Quinn said. "I suppose it's dumb to go to a network and then not like the travel, but I simply hadn't realized that my reaction to it would be that negative."
Quinn, who wore a beard throughout his TV career, said he also grew weary of having his ABC News stories edited from afar and in many cases ruined, in his view.
"They were not unhappy to see me go," Quinn said in the 1989 interview. "I was a bigmouth. You can be a bigmouth at Channel 8 with Marty Haag. He doesn't rise from his chair in a puff of smoke and strike you dead."
Former WFAA8 reporter Bill Brown, who was laid off at the station in 2004 after 25 years, praised Quinn as "an all-around great reporter, one of the best that Dallas has ever seen."
"At ABC News, he reported on a lot of big stories, Brown said. "When he came to WFAA he really wanted to do the little stories, the human stories. In TV we live by pictures. But Matt was a wordsmith. He valued them and used them almost poetically. But it wasn't cornball and it wasn't maudlin. He just had that kind of unique ability to reach into people and get them to talk to him and almost pour their hearts out. People still talk about Matt Quinn stories."
Brown vividly remembers two of them. One was Quinn's bus ride with prisoners being transfered from the Dallas County jail to Huntsville state prison. "From beginning to end it was a human journey we had never seen before."
The other was Quinn's April 15th story on tax filers. He didn't want to do it, and thought it was a cliche, Brown recalls. "So on camera he told viewers, 'I don't think this is a story, but they're making me do it anyway.' I had never seen a reporter take that standard tax story and make it interesting and so much fun. There were some knockdown-dragout fights in our newsroom between Matt and some of the producers. Because they wanted him to bow to their will, and he wouldn't do it."
Veteran WFAA8 reporter Gary Reaves, who left the station for CBS News in the 1980s before returning to Dallas in 1991, says that Quinn "just had a real knack for getting into the essence of a story and making you feel as if you were there. He was an incredible writer. It's because of Matt and a small select number of people like him that Channel 8 became a newsroom where people wanted to come work. They set the tone that it doesn't have to be like everybody else does it."
Many of Quinn's pieces ran under the
Matt Quinn's Chronicles
banner. Reaves recalled a story titled "In the Company of Men," in which Quinn focused on "a bunch of old black men hanging out at a pool hall. In three-and-a-half minutes you learned a whole lot about a part of America that you never see. Matt had the ability to make you know and care about people that otherwise would have been ignored."
Photographer Auman, who's been with WFAA8 since 1976, says Quinn was "kind of a gruff guy, but I just loved working with him. Matt and I were just able to do off-the-wall creative pieces that we wouldn't be allowed to do now."
Auman remembers traveling with Quinn to Tolar, Texas to do a story on six-man football. They ended up revisiting Tolar time and again, following a class all the way through high school in a series of reports on "what life was like in a small Texas town."
The two also followed the Dallas Police Department's Class 182 from day one until graduation. "He had a knack of telling these stories in a poetic way," Auman says.
Quinn had a stroke in the mid-1980s. This time he decided to put himself at the center of the story, so that viewers could get an up-close look at a surgical procedure. Auman recalls shooting Quinn talking to the camera before the anesthesia knocked him out. The photographer then picked up the narration while continuing to shoot. "Then when Matt came out of the anesthesia, he started talking again." The American Heart Association named it the medical story of the year.
Auman remembers talking to Quinn after he and his wife moved to Montague County, located on the Oklahoma border northwest of Fort Worth.
"He was kind of a city guy, and when he was in Dallas, he lived downtown. But when he moved to the country, he said, 'Tim, I love walking through these trees out here.' In the end that's probably what caused his death -- the burning trees."