It's official: TNT's Dallas pilot to be shot in -- drumroll -- Dallas
03/17/11 11:08 AM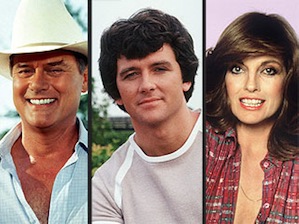 By ED BARK
TNT's previously announced pilot episode for a new version of
Dallas
will get a proper home, the Dallas Film Commission announced Thursday.
Location shooting in Dallas is scheduled to begin in late April, with original series stars Larry Hagman, Linda Gray and Patrick Duffy dropping in to reprise their indelible roles of J.R., Sue Ellen and Bobby Ewing.
The focus, though, will be on the Ewing offspring, with a pair of
Desperate Housewives
alumni, Josh Henderson and Jesse Metcalfe, respectively playing J.R.'s son, John Ross, and Bobby's adopted son, Christopher.
There's a love triangle, of course, with Elena (Jordan Brewster from
Fast & Furious
) dividing her affections between the Ewing kids as "they clash over the family dynasty's future." Christopher otherwise has a fiancee named Rebecca (Julie Gonzalo from
Veronica Mars
).
The script for the sequel, which likely will evolve into a TNT series, was written by Cynthia Cidre, former executive producer of the short-lived CBS serial drama
Cane
. Directing is Michael M. Robin, whose credits include TNT's
The Closer
and
Rizzoli & Isles
.
"We are so excited that we get to shoot the pilot episode of
Dallas
in Dallas," Cidre and Robin said in a statement. "The city has changed so much since the original series and we can't wait to show our audience the fun, the culture, the architecture, the restaurants, the landscapes and the people that make Dallas such a vibrant and cinematic city."
In other words, they're saying all the right things about a series whose CBS original initially ran into opposition from city officials who worried it would portray Dallas as a greed-drenched haven for oily, crooked, philandering businessmen. Which it pretty much did. But
Dallas
pumped multi-millions into the area economy while becoming prime-time's No. 1-rated series. So all was quickly forgiven.
The first
Dallas
ran from 1978 to 1991 and also spawned several CBS made-for-TV movies back when broadcast networks actually made such things. A planned
Dallas
feature film, with John Travolta at one time inked to play J.R. Ewing, has hit a series of dry holes and for now is dead.
Another TV pilot,
Good Christian Bitches
, is scheduled to begin shooting in Dallas next week as a candidate for next season's ABC schedule.
This is good news for both the Dallas Film Commission and local production crews, who had been on a high last year with three network series simultaneously in production -- Fox's
The Good Guys
and
Lone Star
and NBC's
Chase
. The first two have been canceled and
Chase
has gone out of production with no realistic chance of returning in the fall.