Copycatting CW33 (but let's see how far they dare go)
07/21/10 03:33 PM
Some vigilant unclebarky.com readers have noticed that rival stations piggybacked this week on stories that originated on CW33's 9 p.m. newscasts.
The
MAC cosmetic story
, which aired Monday night on CW33, was
reported Tuesday on WFAA8
by Shelly Slater. Also on Tuesday,
NBC5 reporter Grant Stinchfield
picked up on CW33's weekly
"Project Husband"
series while also crediting the station.
One reader cited "all the
KDAF-TV (CW33) jokes
" before asking of WFAA8's and NBC5's copycatting: "Does it 'legitimize' the 33 News or does it 'de-legitimize' the other stations?"
Hmm, let's not play the "de-legitimize" card just yet. Rather, here are some other possible story ideas from CW33's Tuesday night newscast. And if any rival stations copy them, then yes, they're officially "de-legitimized."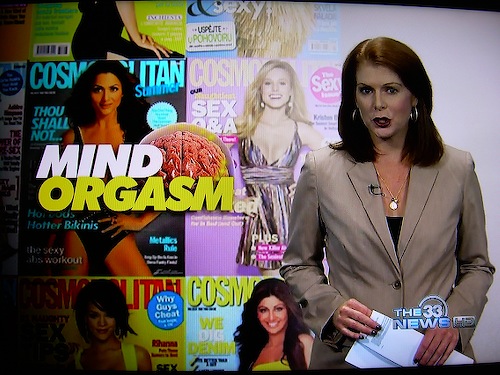 Indefatigable sex correspondent Shana Franklin found another novel way to assume the position in this story on women with the power to think their way to va jay-jay happy land.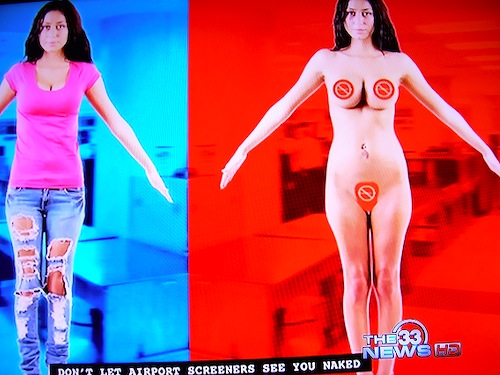 Big Walt Maciborski, the station's co-anchor, used this visual aid during his brief narration of a short story on "Flying Pasties." They're supposed to shield some of your better kept secrets from full-body airport scanners, "though it's really unclear how the stickers will protect your private parts any better than regular underwear," a perceptive Maciborski noted.
Co-anchor Amanda Salinas took the helm -- and remarkably remained straight-faced -- while introducing this story on whether good looks can play a role in being hired. "Ladies, brains and experience should determine whether we get a job. But does beauty play a bigger role?"
This is a howler, considering CW33's hiring of blonde, beautiful and super-curvy
Candace Crawford
within a year after her reign as Miss Missouri USA. She's also Tony Romo's latest blonde girlfriend, an assignment for which Helen Thomas lookalikes need not apply.
Salinas herself replaced the comparatively dowdy
Terri Chappell
, who was sacked in late 2008 as part of a stationwide makeover by news director David Duitch.
This isn't to say that either Crawford or Salinas are brainless. But in the very cosmetic business of TV news, their looks obviously gave them a leg up during their CW33 job interviews.
Anyway, have at it, rival stations. A "Mind Orgasm" is a terrible thing to waste.