How funny: NBC5's news teases a match for the intended comedy in Jay Leno Show
09/14/09 11:13 PM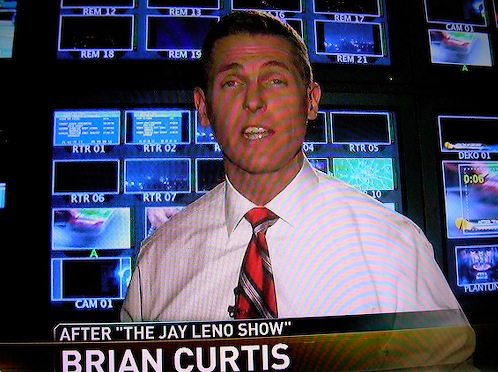 NBC5's Brian Curtis shills for featured flasher story. Photos: Ed Bark
By ED BARK
The funniest comedy during
The Jay Leno Show
may be the nightly promotions for NBC5's 10 p.m. newscasts.
On Monday's premiere, co-anchor Brian Curtis took the wheel for a second time after Leno warned late in the show, "Hey, take a look at what's happening on your late local news!"
Uh-oh. This was Curtis' cue to miraculously maintain a straight face while standing coatless in the station's Fort Worth control room.
"Coming up after Leno, a naked man with a paper bag over his head," he began. "It might sound funny to some. But it's not to the woman who found him in her backyard. Hear what he left for her."
Curtis also flogged a story on the dangers of plastic packaging, but was cut short by a network promo after saying, "Tonight we uncover . . ."
They're apparently saving the really good stuff -- "Boy Trapped In Refrigerator Eats Own Foot" -- until later in the week. But the old flasher-with-a-sack-on-his-head gambit meshed nicely with Leno's closing "Headlines" emission -- "Q & A with local attorney Dick Talkin."
Leno then thanked his guests before re-warning viewers, "Your local news starting right now." And it did -- within a finger snap.
After a few minutes of foreplay, Curtis stationed himself in front of a big "Flasher" graphic and threw it to reporter Ellen Goldberg, standing live in the dark in Lake Highlands.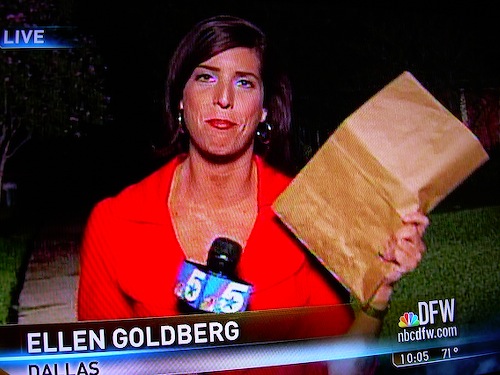 Goldberg is a generally capable reporter, but had her marching orders. So she dutifully brandished a brown paper sack to illustrate the still at large culprit's wardrobe. He allegedly jumped a fence and then flashed a woman through her french doors, Goldberg related. The 27-year-old "victim" talked to Goldberg via cell phone, telling the intrepid reporter that this may have been "nothing more than high school hijinks."
Curtis had promised viewers they'd learn what he "left for her." But Goldberg's account made no mention at all of this. And who are we to speculate?
Goldberg did, however, underscore the gravity of the situation by noting that a Lake Highlands woman was "not amused" by any of this. Unfortunately, she said this within a split second after that same woman was shown laughing while Goldberg talked to her.
Veteran Night Ranger Scott Gordon later chimed in with his urgent story on dangerous clamshell plastic packaging, said to cause 6,000 injuries a year. Some people call it "rage wrap," he noted. Larry David, for one, works himself into a frenzy over it in an early episode of this season's
Curb Your Enthusiasm
, returning to HBO on Sunday, Sept. 20th.
David, who plays himself, isn't yet running around naked with a paper sack over his head. But if he wants material for future episodes, NBC5's news teases seem like a great place to start. Leno might want to recycle them, too. He needs all the comedy gold he can get.