Snyder signs off, ending 30 years at NBC5 with a dignified goodbye
07/01/10 09:02 PM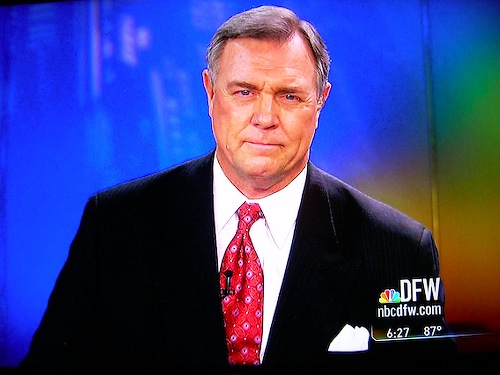 Last words: "And I'm outta here. Goodnight." Photos: Ed Bark
By ED BARK
Anchor Mike Snyder said goodbye to viewers and his NBC5 stage at the close of Thursday's 6 p.m. newscast, exiting with class, dignity and by his lonesome.
Following a tribute film narrated by co-anchor Jane McGarry, Snyder opted to be a solitary man during his last minutes on the air. He sat within a few feet of McGarry's vacated chair, keeping his voice firm and his words trim as he ended a 30-year run at the Fort Worth-based station.
It was quite a contrast from the previous July, when Snyder came close to breaking down while telling McGarry he loved her during their final 10 p.m. newscast together. That was painfully maudlin. This was much, much better.
Snyder "retired" against his will in times when long-term, once highly paid anchors are being shown the door at stations around the country.
"It has been a good ride," he said, noting the "front row seat" he's had for a wide variety of major news stories.
"Most of all, I'm going to miss you," Snyder, 56, said to the TV land denizens who watched him say goodbye. "I will miss visiting with you from this chair."
But he hopes to saddle up again in some other media venture. "You
will
hear from me again," he pledged.
His last words included the same riff he's been using on his Facebook page. It's borrowed from Dennis Miller's weekly sign-off during his "Weekend Update" days on
Saturday Night Live
.
"And until we meet again, that's the news," Snyder said. "And I'm outta here. Goodnight."
A last shuffling of his anchor desk papers could be heard as the camera panned away and meteorologist David Finfrock entered from stage left to shake Snyder's hand a split-second before the newscast ended.
McGarry, who had joined Snyder for the bulk of the newscast, did a nice job of narrating an extended tribute to her longtime colleague.
It highlighted Snyder's reporting from the field -- in times when anchors regularly got out and about -- and his extensive charity work on behalf of the Muscular Dystrophy Association, the Angel Tree Christmas drive and many other worthy organizations.
"He was quickly on a first-name basis with the movers and shakers of North Texas, the people Mike called the titans," McGarry said of his early years at NBC5.
Snyder might admit in retrospect that he got a little too close to some of these titans, becoming a consort as much as a chronicler of their activities. He also regularly wore his heart on his sleeve during the many MDA telethons he emceed. Snyder was never one to hide his emotions, and they regularly hit viewers over the head when a softer touch would have served him better.
Still, Snyder did a lot of good for many people, even while acknowledging that his marriage to the job and its news anchor persona in large part cost him his first marriage. All these years later, Snyder is the father of three grown children and two 'tween daughters from his second marriage to wife, Lyn. He arrived at NBC5 as a 26-year-old kid and leaves with a good deal of maturity, battle scars and accomplishments.
"You see," McGarry said at the close of the tribute film, "what makes Mike excel as a newsman is the same thing that makes him a great family man. He really cares about getting it right."
Here's the tribute video: