Fun with Mike & Jane (hmm, maybe this should be a recurring feature!?)
03/12/10 03:55 PM
By ED BARK
NBC5 anchor Jane McGarry, newly infatuated with
her fledgling Facebook FanPage
, has been posting tidbits and pictures like a maniac since opening shop this week.
Her longtime colleague, Mike Snyder, had
his Facebook page
up earlier, but now seems newly dedicated to the task of perhaps out-doing her.
Yeah, I know. I regularly found fault with them during their long run as NBC5's featured 10 p.m. anchor team. But absentia makes the heart grow a bit fonder perhaps. Snyder and McGarry have been shuttled aside to the 5 and 6 p.m. newscasts to while away their days at lower rates of pay. It's the way of the TV news world, and it makes these old warhorses seem kinda poignant in their put-out-to-pasture years.
In turn, they either love to hate me or hate to love me. But oddly enough, we're all "friends" on Facebook now. Even more astonishingly, they did the invites.
What I'm trying to say is that almost everything is forgiven in time. Hell, even the cast of
The Dukes of Hazzard
yucked it up with their old antagonists a few years back while promoting a reunion movie amid a roomful of TV critics. Man, you really ripped on us. Yeah, we did. A good time was had by all.
The "Fun with Mike & Jane" angle here has to do with some of the wacky stuff they sometimes put on their respective Facebook pages. Mike just posted a picture of himself and his two daughters with Charo during one of his preparation stints in Los Angeles on behalf of Jerry's Kids. And Jane's "Texas Journalist" album finds her proudly posing with another Republican. Here's what we're talkin' about: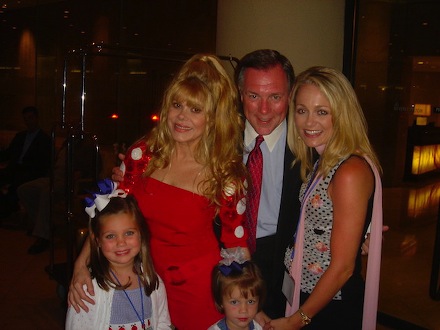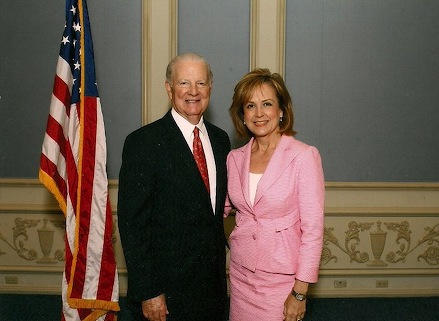 That's longtime GOP power player
James A. Baker III
with Jane. And Mike sure looks sun-kissed in that shot with the indomitable
"cuchi-cuchi"
girl, his kiddoes and an unidentified blonde (who turns out to be his wife, Lyn, readers tell me).
The fun-o-meter advantage here goes to Mike because, well, I never envisioned him in a picture with Charo but I did envision Jane with another Republican.
Jane fights back with this recent prose post: "Going to work and it feels like spring so I think I'll try a new orange jacket -- plus the ankle bracelet -- gotta have the ankle bracelet :)"
Mike can't match her of late. The best he has to offer is: "The weather is schizophrenic in North Texas today. First clouds, then sun so bright I had to haul out the shades to drive. Now, it is back to gray. Must be spring on the way." In other words, advantage, Jane.
Remember, now, "Fun with Mike & Jane" in fact is all in good fun. They're relatively harmless now, and seemingly happy together on the less visible 5 and 6 p.m. shows. So the least we can do is mess around with 'em a bit and perhaps drive a little traffic to their new homes away from home.
NBC5, with the usual strong-armed assist from NBC Corporate, likely will cut them loose soon enough. For now, though, they're still the "longest running anchor pair in Texas history," according to Mike's Facebook page. And you never know what either of them will show or tell.