This just in: A night in the lives of D-FW's late night newscasts (Thurs., May 3)
05/04/07 12:50 PM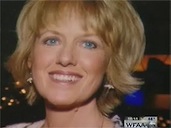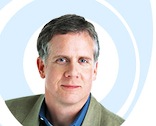 Starfish Foundation founder Belita Nelson, Belo8 investigative reporter Brett Shipp and onetime Dallas Cowboys great Mel Renfro
By ED BARK
It seemed like old times on Belo8's 10 p.m. newscast Thursday.
Veteran investigator
Brett Shipp
, winner of numerous major journalism awards, had another good one going with Part 2 of his expose on a formerly much-publicized charitable foundation.
That's right, Part 2. Once a staple of local TV news, multi-part ratings "sweeps" series are now all but extinct. Consultant firms say viewers just don't have the time, patience or attention spans for elongated reporting of this sort.
But Belo8 let Shipp air this one out. And on Thursday night he reeled in former Dallas Cowboys great and NFL Hall of Famer Mel Renfro. It was buzz-worthy stuff, even if the late night news ratings on all four major stations were depleted by the competing Dallas Mavericks playoff game. Still, Belo8 managed to draw 204,680 homes in leading the pack.
Shipp obtained and meticulously examined bank records of Starfish Foundation, founded in 1998 by a mother who had turned her heroin-addicted son over to police and then vowed to spend the rest of her life fighting drug abuse. Belita Nelson, who in 2002 hired Renfro as Starfish's director of marketing and fundraising, instead seemed increasingly enamored of creature comforts, pricey trips and Cowboys season tickets, all apparently funded with donations.
A bookkeeper eventually was arrested for allegedly stealing money from Starfish. But Shipp's report convincingly made that look like a cover story. Starfish folded in June of 2006 after Nelson was charged with "deadly conduct" for firing a pistol at her son, Jason, who again had been arrested for possession of heroin. Pretty sordid.
Renfro received a $2,000 a month salary from Starfish, which later increased to $2,800. The bigger checks were rerouted to his "Bridge Foundation" for kids, said Shipp. Renfro declined an on-camera interview, but Shipp quoted him as saying by telephone, "My CPA said I could have the money paid to my foundation to avoid -- I mean, to save -- on taxes."
Had he in fact ever paid taxes on his Starfish income? Shipp said Renfro replied, "I'm not sure."
The report obviously didn't let Renfro off, but did strive to let him down easy. Shipp described the former Cowboys cornerback as "by all accounts . . . a likable man with a generous heart" who on a "grand scale" had minimal overall involvement with Starfish. He also interviewed KTCK-AM radio ("The Ticket") sports talk personality Norm Hitzges, who said that prominent ex-athletes "sometimes can be too trusting, and they wind up with egg on their face."
Nelson is now in Denver trying to launch a new foundation -- the Professional Football Players Alumni Association. She's refused on-camera interview requests, but denies all wrongdoing, Shipp told viewers.
But this story had the goods -- as well as the bad and the ugly of a foundation that fell into an abyss of its own making.
(Note to readers: The case against Belita Nelson and her son eventually was dismissed on April 30, 2010 at the request of the Collin County District Attorney, who said the state was unable to make a prima facie case.)
Elsewhere, CBS11's 10 p.m. newscast reverted back to tabloid crime after a solid night of storm coverage Wednesday. The station's second story -- "only on CBS11" -- played the "Peeping Tom" card often dealt by NBC5.
Reporter
Brooke Richie
interviewed a 16-year-old girl -- in silhouette -- who said that a man had tried to watch her undress in a clothing store changing room.
"Now police want to know if they have a serial spy on their hands," said Richie, who noted that store management never called police. Instead, they "kicked us out of the store," she said. "Tonight they did call police, but on us."
All four stations offered ample post-storm mopups, with NBC5 night ranger
Scott Gordon
as usual displaying the common touch.
He found a salt-of-the-earth elderly woman whose Arlington home remained without power. Lily Thompson gladly took Gordon on a tour of her well-packed freezer and its endangered contents: "Steaks and pork shops and meatballs, chicken pot pies, biscuits, bacon, salmon. It's just going to spoil if I don't get some electric back on."
And then the clincher: "Oh, and here's my coffee pot," she told Gordon. Bless her.
Everyone otherwise happily gathered around the "breaking news" picture story of the night. A large Grand Prairie home was damaged shortly after 9 p.m. Thursday after an unidentified motorist swerved into it and crashed partially through it. But no one got hurt.
Fox4 devoted three separate segments to live "Car Into House" reports by chopper reporter
Scott Wallace
. And NBC5 led its newscast with it.
These things are just way too picture-perfect to pass up.