This just in: a night in the lives of D-FW's late night newscasts (Wed., Feb. 6)
02/07/08 11:15 AM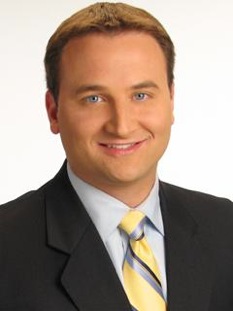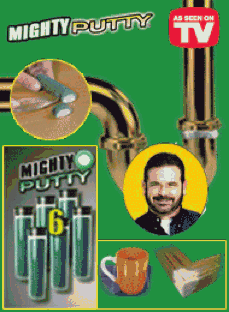 By ED BARK
Flamboyant Fox4 consumer reporter
Steve Noviello
clearly and dearly yearns to be a big-time national TV star.
His portal might be Noviello's recurring "Deal or Dud" series, an amusement park ride that would be perfect for a weekly series.
On Wednesday's 9 p.m. newscast, Noviello faced off against
Mighty Putty
, his most-requested target ever according to station promos.
Resembling a gangrene-infested Tootsie Roll, the "super-powered epoxy" is supposed to have an iron grip. Its P.T. Barnum, bearded Billy Mays, has been selling it all over the place. Says he: "It has the muscle to support up to 350 pounds!" And get this. Mighty Putty also is capable of pulling a "fully loaded" 80,000-pound tractor-trailer.
Noviello and two handymen found Mighty Putty to be a 90-pound weakling that couldn't even hold a coffee cup handle in place after its miracle five-minute drying time.
Nor could it perform any of the other amazing feats shown in commercials, including holding a hefty cinder block aloft. It did plug a hole in a glass, as demonstrated by Mays. But Noviello noted that you're then not supposed to drink from a Mighty Putty-repaired receptacle.
Noviello and his two assistants didn't try to pull a semi-truck, but easily had enough evidence to proclaim Mighty Putty a big "Dud."
"We reached out to the parent company of Mighty Putty, and have yet to hear back from them," Noviello then told viewers.
The "Deal or Dud" segments arguably are a newscast's equivalent of "Stupid Pet Tricks." But damned if they aren't fun to watch. Consumers also get an entertaining heads-up, which in Mighty Putty's case is also a kick in the head. Noviello takes great glee in presenting "Deal or Dud," which really should go national. Look no further than the struggling MyNetworkTV. They sure could use a crowd-pleaser, even if Mighty Putty probably is one of their advertisers.
And in other news . . .***
NBC5 led its Wednesday 10 p.m. newscast with a "Danger in the HOV" story by
Grant Stinchfield
. He told viewers about the lack of exit and entry points on a stretch of Central Expressway north of 635. Stinchfield apparently took a tricycle to get to this story, because CBS11's
Jack Fink
had it two nights earlier at the top of his station's late night newscast.
***
The Peacock acted faster in sending veteran Night Ranger
Scott Gordon
to Atkins, Arkansas along with the station's "Storm Tracker H3." He found some homes devastated by this week's round of tornadoes and interviewed some of the afflicted. Rival stations didn't bother, recapping the damages via video clips.
***
CBS11 investigator
Bennett Cunningham
messed around with a "Chocolate Surprise!" expose in which he bought an armload of potential Valentine's Day booty and had it tested in a lab for contaminents. Minuscule evidence of cat hair, insect parts and clothing fiber was uncovered. Cunningham then treated some women to his findings. Ewww.
"I don't think I'll be going in there and ordering my chocolate latte now. Thank you," a woman told him sardonically.
"Sorry," said Cunningham -- which of course he wasn't.
He later noted that the "hard to see"
unwanted ingredients
were below allowable FDA limits, and that it's virtually impossible to keep food free of such stuff.
"It's the gross-out factor that seems to bother some people," he concluded. That's exactly what CBS11 was counting on. But the station should be above this, and the accomplished Cunningham also knows better.
Anchor
Karen Borta
played along, saying it's better to stick with jewelry on Valentine's Day. "If it's got a hair on it, that's just fine," she said.
***
CBS11's
Nerissa Knight
, a reporter who genuinely seems to care about people, had a touching story on efforts to help four-year-old Haley Hart of Mansfield. She has a rare form of kidney cancer that 's now spread to her lungs. Nine bands, including one composed of Mansfield firefighters, will be holding a
benefit concert
, starting at noon Saturday, in Fort Worth.
***
WFAA8's
Shelly Slater
had a revealing story on increases in human trafficking, which amounts to slavery. And reporter
Gary Reaves
tracked the North Texas "Money Trail" for presidential candidates invading Texas in coming weeks to campaign for the state's unusually important March 4th primary.
***
Fox4's resourceful
Jason Overstreet
again found a story of considerable worth. He reported live from an SPCA animal shelter in McKinney, which had a record 428 new arrivals in just one week. That's because of a dog-fighting bust in East Texas and rescues of pets from several filthy residences that were overrun with them.
An SPCA representative said that people increasingly are more willing to report animal abuse, which escalates populations at shelters. At the McKinney rescue site you can even adopt a chicken if you'd like.
***
Wednesday night's Pete 'n' Dale hijinks on WFAA8 are brought to you by Uncle Barky brand squirting lapel flowers, which welcome any "Deal or Dud" scrutiny because sales have slumped.
Forecaster
Pete Delkus
said that a Duncanville viewer who regularly sends him weather pictures also couldn't help asking, "Is it just me, or is (sports anchor)
Dale Hansen
losing more hair?"
Hansen, who has lost 30-plus pounds in recent months, blamed any follicle shortage on "the stress of working with Delkus."
News anchor
Gloria Campos
later joined in, asking colleague
John McCaa
if he'd be giving up anything for Lent.
McCaa said he wouldn't, but how about Pete?
"Smoking," he said. "You don't smoke," said Campos, who added that she'd be laying off chocolate for Lent. In any weak moments, she can just dial up
Cunningham's story
.