Dallas-based CW33 news director says his station's immune from impending Tribune "NewsFix"
07/26/10 10:41 AM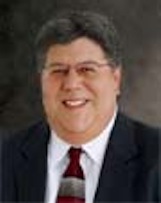 CW33's David DuitchBy ED BARK
CW anchors and reporters would be robbed of their identities -- on-camera "face time" -- under a Tribune-mandated gambit to be tested this September on the company's Houston station.
Dubbed "NewsFix," it strips newscasts down to a collection of stories in which natural sound, graphics and sound effects air in a continuous stream without any appearances by station "talent." Instead, anchors and reporters will be reassigned to other off-camera duties. Ratings-starved KIAH-TV is scheduled to be be the first guinea pig, with other Tribune-owned, CW stations likely to follow.
It's all the brainchild of Chief Innovation Officer Lee Abrams, best known for launching the "Album Rock" format on FM radio stations. In a Tribune-released statement, Abrams said, "Incremental change at our television stations won't get it done. We have to be radically and noticeably different -- we have to imagine TV and TV news in a totally new way, one that breaks through and reinvents the decades-old, tired TV playbook."
Tribune plans to roll out NewsFix in increments, concentrating on those of its 23 stations "where we have the least to lose," Abrams told
The Chicago Tribune
. Chicago's longtime independent powerhouse, Tribune-owned WGN-TV, will be exempt for now and likely only "tweaked" under the new regimen. But Abrams also made it clear that "we have a lot of cities where we're not doing well . . . And we're not going to 'tweak' our way out of it. We have to do something dramatic. What happens sometimes is a station will mimic the big guy and end up with the poor man's version of traditional news."
In D-FW, CW33 news director David Duitch says there won't be any sweeping changes at the station. Asked via email, "Any chance of NewsFix happening at CW33 in the near future?" Duitch replied, "No chance."
Duitch, a former news director at Dallas-based WFAA8, joined CW33 in July 2008. He already has made numerous content and personnel moves at the station, including hiring a new anchor team and infusing newscasts with heavy helpings of sex and social media reporting. The stations also has used the slogan, "You Won't Believe The $#!T We Report"! next to a picture of co-anchor Walt Maciborski.
CW33's featured 9 p.m. newscast is hardly a ratings juggernaut, but it's not a total loss leader. The station usually has more total viewers than TXA21's two-hour prime-time newscast. And among 18-to-49-year-olds -- one of CW33's target demographics -- it regularly outdraws the 5 and 6 p.m. newscasts on two or more of the Big Four broadcast stations.