Footloose with Fox4's Fiona Gorostiza
03/12/10 09:45 AM
Fox4's Fiona Gorostiza strikes her "Cheerleader Pop" pose during Dallas auditions for So You Think You Can Dance. Photos: Ed Bark
By ED BARK
Fox4's fun-seeking Fiona Gorostiza thinks she can dance -- and can.
Gorostiza's latest
Good Day
mini-adventure took her to Thursday's Dallas auditions for Fox's summertime shakedown, where she emerged relatively unscathed after showcasing her brand of "Cheerleader Pop."
"I'll be quite frank. I was expecting a lot worse than that," pronounced Nigel Lythgoe, head judge and co-executive producer of
So You Think You Can Dance
. Still, it had some typically "cheesy steps," he added.
Gorostiza, contestant 56789, took the stage at SMU's McFarlin Auditorium as part of a pre-planned bit for
Good Day
. But two CD malfunctions -- of Madonna's "Express Yourself" -- kept her bouncing and flouncing onstage far longer than expected. The venue was a bit overwhelming, too.
"I thought it was going to be a small room,
Idol
-esque, with the judges," she said. "And then I walk in there, and omigosh, there's an audience -- of actual dancers. And there's a stage. It looks very Broadway. Lights and everything. So I got really nervous before I went on. And then the CD skipped."
Lythgoe tacked on another layer by summoning two hip-hoppers from the audience to join Gorostiza in a three-way interpretation of The Black-Eyed Peas' "I Gotta Feeling." Not bad, if he says so himself: "You looked really good doing that, sweetheart. Very sexy."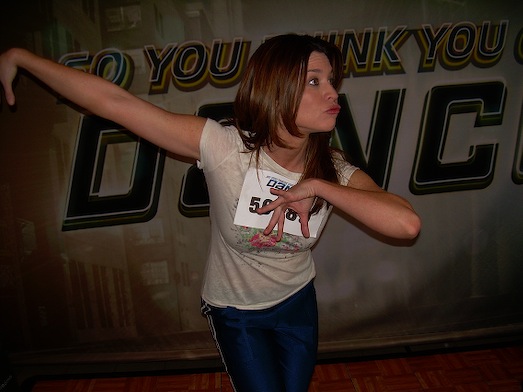 Gorostiza, who also does weathercasts for Fox4, said her immediate reaction afterward was, "I need water. I need a shower. I need a nap. Then I said, 'Whoa, whoa, no, no.' Water. Long, hot bath. Nap."
It presumably beat barefoot walking on hot coals, which Gorostiza, 31, did
around this time last year
during a
Good Day
segment from Fair Park conducted by the Firewalking Institute of Research and Education. She later was treated for second degree burns.
Her
So You Think You Can Dance
"tryout" taught her that "apparently under pressure I can pop and rock," Gorostiza said, laughing.
She otherwise does her dancing without cameras rolling.
"I've been known, every now and then, to cut the rug on the occasional disco ball dance floor," Gorostiza said. "Especially being from Vegas."
Gorostiza's
So You Think You Can Dance
segments will be saved until later this spring. The show will return for Season 7 on May 27th.