Final chapter in Packer backer buildup
02/04/11 04:01 PM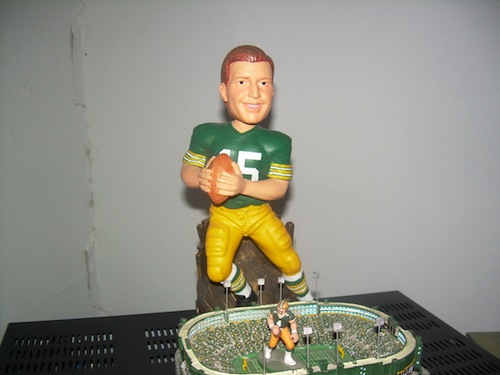 Quarterback Bart Starr, MVP of the first two Super Bowls, drops back to pass on a Verizon Fios cable box while a miniature Brett Favre stays in uniform in a mockup of Lambeau Field. Photo: Ed Bark
OK, it's at last time to make a prediction in the big 'n' tasty Super Bowl XLV matchup between Uncle Barky's native state Green Bay Packers and the pillaging Pittsburgh Steelers.
So let's go with a final score of Packers, 28, Steelers, 20, which would make Green Bay IV and I in Super Bowls while Pittsburgh drops to VI and II.
Unlike Brett Favre, Packers QB Aaron Rodgers likes to play on climate-controlled turf. So what Green Bay did in the Georgia Dome to the Atlanta Falcons should be a reminder that this team don't need no stinkin' Frozen Tundra to bring its A-game.
Still, the Steelers are going to be tough, formidable and clearly ready to play. So it won't be easy, but I'm confident the Pack will prevail in Jerry's Palace while the Cowboys owner puts on a happy face and in the end says "Cheese."
Ed Bark