Rowlett savoring life beyond TV news while teaching on the side
09/28/09 12:45 PM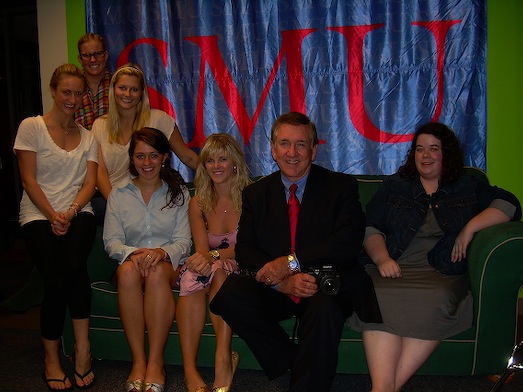 Tracy Rowlett with his SMU broadcasting class. Photo: Ed Bark
By ED BARK
Off the air for more more than a year and "happy as a clam" in semi-retirement, Tracy Rowlett says he's signed off for good as one of D-FW's signature news anchors.
Instead he's teaching a small class in broadcasting issues at SMU while otherwise spending much of his free time with wife Jill and their autistic son, Michael. He also spent last weekend at his 50th high school reunion in Wichita, Kansas.
"I really thought that maybe I would miss it," Rowlett, 67, says in an interview shortly before his class is in session. "I mean, I did it for so long. But I truly have not, and I especially don't miss television news as it today. I was able to work at the local level during the real halcyon days when Channel 8 (WFAA) was the premier station in the country. So I had a great career. I'm very proud of what we were able to accomplish over a long period of time. But it was time for me to leave, and I'm glad I did."
Rowlett spent more than a quarter-century at WFAA8 before stunning both his employer and the local TV news industry by jumping to KTVT-TV (Channel 11) in 1999 after CBS bought the station and offered him a multi-million dollar deal.
He then pulled a second big surprise in July of last year, leaving CBS11 to become the head anchor of Shale.TV, a then under-construction website being sponsored by Chesapeake Energy Corporation.
Skeptics abounded, but Rowlett said that Chesapeake had promised him full editorial control in a venture that also lured award-winning D-FW news producer John Sparks, former
Dallas Morning News
reporter/network news producer Olive Talley and, later, CBS11 reporter Mark Johnson.
But Shale.TV never materialized. Citing a debilitating economy, Chesapeake abruptly dropped it in October 2008. Rowlett believes there was an unstated reason as well.
"The economy certainly had a lot to do with it, but I honestly think it might have been those folks re-thinking what they were getting into," Rowlett contends. "We had been so adamant in telling them that we wanted to do every story we felt deserved to be told -- not just the positive stories. So as the economy started plummeting, I think they decided that maybe they didn't need negative press from inside as well. So I think that was part of the reason they pulled the plug on it."
Rowlett taught broadcast news writing at SMU in the 1990s while still anchoring at WFAA8. His new class is much smaller and devoted to issues ranging from alleged liberal media bias to new ways in which news is reported. The class also recently revisited Edward R. Murrow's famed 1960 CBS documentary
Harvest of Shame
.
"You don't want to let the brain go completely dead, so working at SMU is helping me in that regard," he says.
Rowlett also is seeing his son, Michael, 23, make heartening progress in small steps.
"He's responding in ways he never has before," Rowlett says. "I'm responsible for feeding Michael, and he's always been bottle-fed. But now he's eating food. It's an amazing breakthrough for all of us."
Rowlett decries what he terms the "consultant-driven nonsense" on many latter day local newscasts.
"If someone actually tried to do good, hard investigative reporting and put on a decent, informative newscast, I think it would still work," he says. "But whether the managers running those stations would have the guts to do that is very, very doubtful . . . I don't mean to sound as negative as all that. I certainly think that television news should have an important role to play in all of our lives. But it's not playing that role now, and I'm not sure it ever will again."
Whatever occurs, Rowlett says he's over and out. Not that the once high-priced services of an elder statesman would be in high demand anymore during the ongoing downsizing in TV markets big and small. He accepts that reality, too.
"I saw where somebody said, 'Oh, Tracy's just a bitter old man.' Nothing could be farther from the truth. I truly am blessed in every way, both in the career I had and where I am now."