Award-laden investigator Brett Shipp quits TEGNA8, takes aim at Pete Sessions' congressional seat
12/06/17 08:04 PM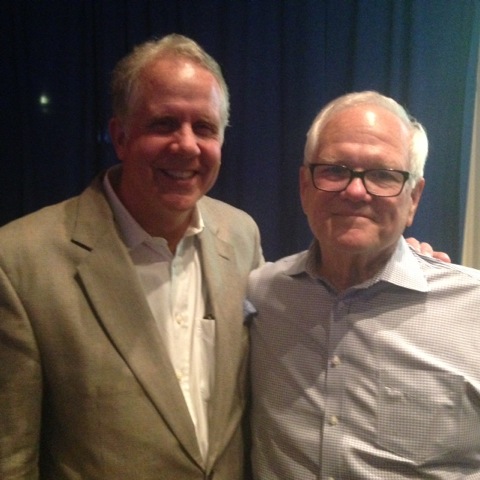 End of eras: Ex-TEGNA8 investigators Brett Shipp & Byron Harris.
Photo: Ed Bark
By ED BARK
@unclebarkycom on Twitter
Mr. Shipp goes to Washington?
Investigative reporter Brett Shipp has abruptly ended a 22-year career at Dallas-based TEGNA8 by announcing he'll be running for the 32nd District congressional seat held by Republican Pete Sessions since 2003.
Shipp, 59, would first have to survive a multi-candidate Democratic primary field. TEGNA8, which broke the news of his candidacy, said that Shipp resigned Tuesday.
"We are grateful for the many contributions Brett has made to WFAA and the field of journalism," executive news director Carolyn Mungo said in a statement.
Just a little over two years ago, Shipp and Byron Harris (who retired in October 2015 from TEGNA8) formed the most formidable and award-winning investigative reporting duo in D-FW television news history. Both were honored with multiple national Peabody and duPont Columbia awards.
I
n an interview with unclebarky.com
tied to his retirement, Harris said he expected Shipp to remain a fixture at TEGNA8 for many years to come.
"I don't expect his zeal to subside at all," Harris said of Shipp. "I expect him to be allowed to continue for another decade to come, two decades, whatever."
Shipp himself also anticipated as much,
telling unclebarky.com in April 2016
, "I will be rolled out of Channel 8 on a gurney -- dead or alive."
Instead he walked out under his own power. "I absolutely have reached my threshold of tolerance for negative discourse, toxic politics and the lack of civility," Shipp
told The Dallas Morning News
Wednesday. "I've had enough. I cannot sit back and do nothing."
Shipp hasn't spoken to unclebarky.com since taking offense at admittedly being accurately quoted in October 2016
while hosting a Dallas VideoFest event
titled "How the News Got Made."
Shipp has made both a name for himself -- and more than a few enemies -- during his tenure at TEGNA8. One of his antagonists, Dallas County Commissioner John Wiley Price, quickly weighed in Wednesday, t
elling The News
that Shipp has "an ice cube's chance in hell" of being elected to Congress.
"Name recognition is not always what it's about," Price added. "One of my opponents had name recognition. But what are you known as?"
Shipp follows in the footsteps, although not along party lines, of former NBC5 reporter Grant Stinchfield. He
unsuccessfully ran as a Republican
congressional candidate against incumbent Kenny Marchant after initially leaving the station to take ownership of a Kwik Kar Auto Lube and Repair business.
Shipp, who was an investigative reporter for Dallas-based KDFW-TV (now known as Fox4) before joining TEGNA8, is the
son of Bert Shipp
, the late, longtime TEGNA8 assignments editor.
Email comments or questions to:
unclebarky@verizon.net