Local Nielsen ratings snapshot (Tues., July 13) -- All-Stars edge Talent in battle of summertime heavyweights
07/14/10 10:33 AM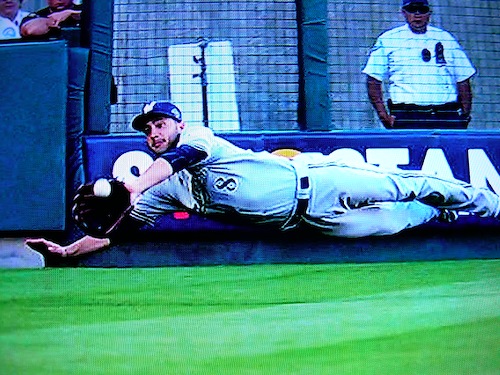 The Brewers' Ryan Braun takes a dive and makes the catch during NL's win over AL in Tuesday night's All-Star game. Photo: Ed Bark
By ED BARK
Major League Baseball's All-Star game, the only one that really matters among the four major professional sports, prevailed in the D-FW ratings Tuesday night against NBC's always formidable
America's Got Talent
.
They went head-to-head from 8 to 10 p.m., with Fox's coverage of the NL's first win over the AL since 1996 drawing 325,742 viewers in those two hours to
Talent
's 298,597.
Overall, the two hour, 59 minute game -- 7:50 to 10:49 p.m. -- averaged 312,170 viewers while also topping the prime-time charts among advertiser-coveted 18-to-49-year-olds.
We now pause briefly to note how competitive and entertaining the game was despite the pitcher-dominated 3-1 score. The NL's determination to end its long losing streak and the awarding of World Series home field advantage to the winning league again put baseball's annual All-Star gathering in a league of its own. The NBA, NFL and NHL All-star games are high-scoring farces for the most part, with players going through the motions rather than competing all-out.
As the above picture shows, baseball's All-Stars take their game very seriously. Milwaukee Brewers' outfielder Ryan Braun, shown above, easily could have hurt himself with that full-out dive early in the game. But he made the catch and likely inspired his NL teammates to make an even more concerted effort to win this game. It was great stuff throughout the night, with Texas Ranger Ian Kinsler finally ending the game with a long drive to right center that for a moment looked as though it could be a game-tying 9th inning home run for the AL.
OK, on to Tuesday's local news derby results.
NBC5 swept a downsized three-way 10 p.m. competition, winning in both total viewers and 25-to-54-year-olds, the main advertiser target audience for news programming on most stations.
The Peacock also ran the table at 6 a.m. and notched a 5 p.m. win in total viewers.
WFAA8 had the edge at 5 p.m. among 25-to-54-year-olds, with two stations also splitting the golds at 6 p.m. CBS11 won at that hour in total viewers and Fox4 took first place in the 25-to-54 demographic.