Lopez scoop proves value of beat reporting (updated)
03/27/09 10:08 AM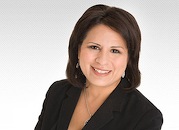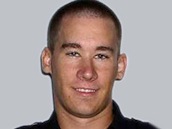 Ryan Moats, Rebecca Lopez and DPD officer Robert Powell
By ED BARK
It's become one of the biggest talkers in recent memory, both nationally and locally.
Media of all forms continue to pounce on the story of pro football running back Ryan Moats
being detained from seeing his dying mother-in-law
by Dallas Police office Robert Powell, who ticketed him for running a red light enroute to Baylor Regional Medical Center in Plano.
While everyone strives to make the story their own, let's not forget to give credit to the veteran reporter who broke it.
WFAA8's Rebecca Lopez
joined the station in 1998. Her primary responsibility at WFAA8 is the police beat. And this is a prime example of where beat reporting, an endangered species in local TV news, paid off with an important story.
There's still no substitute for developing sources and knowing your terrain. But that's all being seriously jeopardized in this market and many others by continued downsizing of news staffs amid "content sharing" among stations that used to be arch rivals. Gradually you pay a price for that.
Lopez's story, which first ran on Wednesday's 10 p.m. newscast, now is driving web traffic on all four of D-FW's major TV news providers. But WFAA8 is getting the lion's share of viewer comments.
As of this Friday a.m. writing, 1,761 comments have been logged on
WFAA.com.
NBCdfw.com
has 377 comments so far, and cbs11tv.com has a
poll asking
, "What do you think about the DPD officer who kept the NFL player from seeing his dying relative?" So far 80 percent have responded, "Outrageous -- He Should Be Fired." But CBS11 has no information on how many people have voted.
Myfoxdfw.com
doesn't have a comments option attached to its coverage.
Moats and his wife, Tamishia, supposedly were going to appear exclusively on Friday's
CBS Early Show
to talk about the incident. At least that's what CBS11 anchor Karen Borta told viewers during Thursday's late night newscast, which was delayed by NCAA basketball.
The interview never happened, though. CBS11 spokesperson Lori Conrad, responding to an inquiry, said that the
Early Show
interview "was a lock until this (Friday) morning, when the broadcast executive producer got an email saying that they couldn't do the interview because Ryan's wife was still grieving."
In D-FW and nationally,
Early Show
long has been the least-watched of the three competing network morning programs.