First look at how NBC5's new home is supposed to look
06/29/12 04:46 PM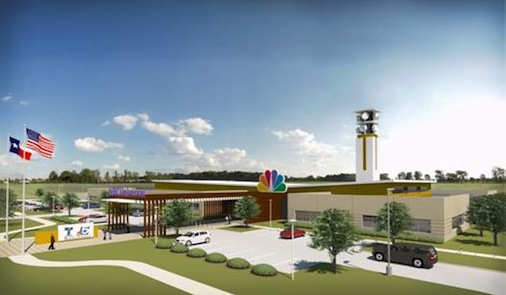 An artist's rendering of NBC5's new CentrePort home. KDC photo
By ED BARK
@unclebarkycom
The earth didn't shake, but ground was broken Friday on NBC5's future home at the CentrePort Business Park in Fort Worth.
An above artist's rendering, included with a publicity release, shows how it's all supposed to look upon completion in late 2013.
"It is great to finally turn dirt and get this exciting project started," KDC senior vice president Bill Guthrey said in a publicity release.
KDC, with main headquarters in Dallas, is the commercial real estate and investment company behind construction of the 8.1 acre, 75,000 square-foot "broadcasting and multimedia news facility." Corgan Associates, Inc. is the lead architectural firm.
Besides NBC5, the complex aIso will house Telemundo affiliate KXTX-TV and several other "smaller businesses associated with NBC Universal," which owns both NBC5 and the Telemundo network.
"Consolidating our operations in CentrePort (where American Airlines and AT&T also are located) provides the opportunity for us to serve viewers better from one strategically-situated location near the center of the North Texas region," NBC5 president and general manager Tom Ehlmann said in the release.
As previously reported, NBC5 is leaving the only home it's ever known since signing on as WBAP-TV on Sept. 27, 1948. The station, which became KXAS-TV and now is marketed as NBC5, has operated out of a building at 3900 Barnett St. in east Fort Worth since the day it was born.
The new CentrePort address will be 4805 Amon Carter Blvd.