This just in: a night in the lives of D-FW's late night newscasts (Mon., Feb. 25)
02/26/08 11:34 AM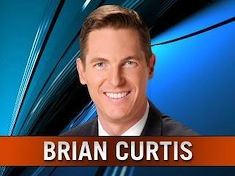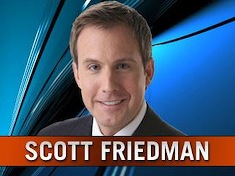 By ED BARK
The following may shock or surprise you, as they like to say in the TV news biz we all know and love/loathe.
NBC5's 10 p.m. newscasts appear to be undergoing at least a semi-extreme makeover. The Peacock-ian fixation on quick-hit crime and tragedy -- and quickie cosmetic fixes -- seems to be going out of fashion. Respectability lately has crept in under cover of dark. And it seems to be taking hold.
Monday's edition marked the second straight weeknight without any spot news dollops of violent crime or flaming car wrecks. No, this is not a misprint.
Instead NBC5 sent the very capable
Scott Friedman
to a Monday night public hearing on controversial student transfer initiatives in the McKinney school district. It was the only station with a live, reporter-driven story on something that clearly doesn't make for "sexy" video or overblown anchor buildups.
Even
Brian Curtis
got into the act. Oft-ridiculed in these spaces for his "Big Fat Savings" dispatches and borderline informercials for area merchants, Curtis had a "Lowfat Lowdown" piece that actually had some meat to it. And "with results that may surprise you," anchor
Jane McGarry
prototypically teased.
Curtis bought four supposedly low-fat/low-calorie meals from the weight-conscious menu choices at Chili's, Applebee's, T.G.I. Friday's and the Olive Garden. Then he had them tested at a lab for fat grams and calorie counts. The results at all four restaurants were pretty much in line with the information on menus.
Some stations might say there's no story if you can't find a figurative fly in the soup. But in fact it's also news if the verdict is "Not Guiilty" of customer deception. So Curtis gave it to viewers, as he also presumably would have if one or more of the restaurants had screwed up.
NBC5's
Meredith Land
, who likewise used to specialize in classic NBC5 superficiality, had an interesting piece on Dallas City Councilman Dwaine Caraway's latest crusade -- against garage sales. Clearly he needs to take a chill pill and ease up, because garage sales are the American way. But knowing Caraway, he'll next be waging an all-out war against dogs peeing on fire hydrants.
The Peacock's
Ellen Goldberg
also regularly shows her her mettle as a resourceful nightbeat scooper. This time, though, she joined rivals in covering the candlelight vigil for police officer Victor Lozada, who died in a motorcycle crash Friday morning while helping to escort Hillary Clinton's motorcade.
Goldberg unfortunately wore a snow white outfit, necklace and notably heavy makeup that made her look more suited to a toney Highland Park tea party than this somber occasion. She usually knows better.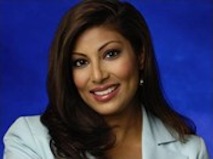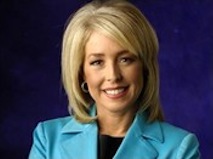 CBS11 reporters Kaushal Patel and Ginger Allen
CBS11, engaged in a tight fight with NBC5 for second-place in the total homes Nielsens, also had some reporting of note. But the station engaged in clearly pre-meditated deception, too.
Assuming it's accurate -- which is a big assumption these days -- CBS11's latest poll in partnership with KRLD-AM radio had some deflating news for Mrs. Clinton.
As reported by
Jay Gormley
, it showed her now trailing Barack Obama by a 49 to 45 percent margin among would-be Texas voters. That's a reversal of last week's results, when she led by 50 to 45 percent.
Clinton's lead among Hispanics also has dropped -- from 30 to 13 percentage points -- in just a week's time. And she's also "losing her grip" with women, Gormley said. We'll see when the vote comes in on March 4th.
CBS11's
Kaushal Patel
, lately chipping in as one of the station's gumshoes, had an "exclusive undercover investigation" of a drug-testing facility that also seems to be giving failing patrons a way to mask results via a "body cleansing system."
A producer with a hidden camera talked to an employee of the Uni-State lab who offered 14-day and 10-day cleansing systems as well as a "Quick Solutions" method. The latter would yield a five-hour "clean time" window on the day of testing.
A subsequent visit to the facility was rebuffed in roughly the same way that an inquiring snoop would be tossed from a TV station's lobby.
"Is that thing turned on? You need to turn it off," a woman snapped.
Dallas County district attorney Craig Watkins told Patel he plans to launch an investigation. And Uni-Stat, in a subsequent face-saving statement, said it regretted its association with the body cleansing product.
The station's
Kimberly Ball
also had an interesting story on the grieving mother of a Midlothian teenage girl who was killed by an alleged drunk driver who's in the country illegally. And
J.D. Miles
joined other reporters in following up on acknowledged dispatcher problems that caused a delayed response to the scene of officer Lozada's fatal motorcycle crash. Miles first broke this story on Saturday, CBS11 anchor
Karen Borta
told viewers.
Borta also touted what she called "another CBS11 investigation into cosmetic concerns." In fact it was nothing of the sort. Its "reporter,"
Ginger Allen
, again was no more than a decorous prop for a story on "potentially dangerous" levels of mercury in mascara and other beauty products.
An unclebarky.com archaeological dig on the Internet located the true origin of the story. It's by
Michele Gillen
, an investigative reporter for CBS-owned WFOR-TV in South Florida. Video was posted Feb. 11th on the station's Web site, and can be found by searching for "mercury in cosmetics" in the station's video archives. CBS11's only contribution to the story was to edit it from an original running time of 5 minutes, 47 seconds. It otherwise has the same interviewees, etc.
Ironically, the WFOR story was introduced by co-anchor
Shannon Hori
, who left CBS11 last year after a stint on the station's early morning news program. Hori's news director at WFOR,
Tom Doerr
, formerly had that position at CBS11.
It's one thing to work in partnership with a corporate sibling. It's quite another to give that station no credit and instead pass a story off as "another CBS11 investigation." The station should be above this, because its overall news content otherwise is significantly improved under news director
Scott Diener
. He took over last fall after a brief reign of terror by predecessor
Regent Ducas
, now in Providence, R.I.
Allen, who also co-anchors CBS11's early morning news, has been appearing night after night in the service of stories obviously aimed at keeping women viewers tuned in. But as with Friday's "Headache Agony" piece and numerous others this month, she's a narrator piggybacking on others' work while standing next to an HD screen. The impression however, is that Allen is out there reporting this stuff. She isn't, and it's shame to see it come to this for a once capable member of the station's investigative team.
And In Other News . . .
Fox4 investigator
Becky Oliver
did her own work in the service of a story on police and courtroom bungling of a case that clearly resulted in the wrongful arrest and physical abuse of a young man accused of slapping a woman at the Red River Dance Hall & Saloon. She rightly called it a "legal fiasco," and had the goods to prove it. Good work.
***
The station's invariably resourceful
Jason Overstreet
had a piece on a recently announced Lifetime cable movie drawn from the "cheerleaders-out-of-control" scandal in late 2006 at McKinney North High School. Its working title is
Fab Five: The Texas Cheerleader Scandal
, with well-worn Tatum O'Neal as the principal. Current-day students and some of their parents say they're upset, even though some also admit they'll be watching.
***
Meanwhile, "everybody watches Channel 4," said a woman who's been looking for the owner of a military ring ever since she found it three years ago. She finally called on "What's Buggin' You?" correspondent
Saul Garza
after "watching Channel 4, as I always do."
That should be worth a little paycheck bonus for Garza, who as yet can't find the ring's owner either.
***
WFAA8's
Brad Watson
wrung a decent quote out of Hillary Clinton during a one-on-one satellite interview. He asked her about that recently distributed picture of Barack Obama in an African turban and robe, for which his campaign blames her.
"Every time I traveled to foreign countries, I wore the costume of that country," she told Watson. "You can find dozens of pictures of me in different parts of the world. You know, this is one more attempt by my opponent's campaign to change the subject."
Fox4 anchor
Steve Eagar
made do Monday with a satellite interview of John McCain, who's yet to campaign or advertise in the state but is scheduled to make an appearance in North Texas Thursday.
As previously posted, only the two remaining Republican presidential candidates are willing to talk to Fox4. The Democrats aren't making themselves available to the station because they distrust the station's cable sibling, Fox News Channel. As also posted before, that's pretty childish of them.