Down for the count? Season finale of RHOD falls sharply off double-pronged lead-in punch
06/14/16 05:52 PM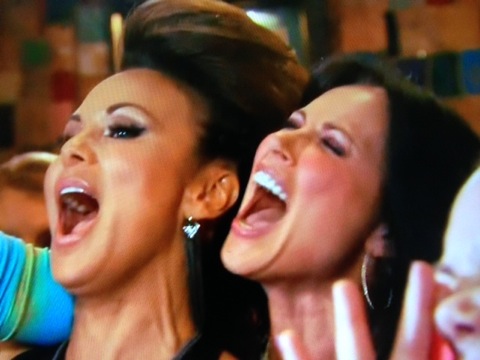 Pals Tiffany Hendra, LeeAnne Locken in happier times. Photo: Ed Bark
By ED BARK
@unclebarkycom on Twitter
This could clinch it -- the cancellation that is.
Gifted with a larger than usual lead-in for its season finale,
Real Housewives of Dallas
coughed up close to half a million viewers Monday night in the national Nielsen numbers.
Here's the tale of the tape.
Bravo's
Southern Charm
, moved up an hour to 7 p.m., led off prime-time with 1,361,000 viewers and a .5 rating in the advertiser-prized 18-to-49-year-old age range.
Then an "uncensored"
Real Housewives of Orange County
recap special (preceding the show's official Monday, June 20th return) increased that total to 1,431,000 viewers while retaining a .5 rating in the 18-to-49 demographic.
RHOD
followed, but a large number of Americans didn't. The show fell to 949,000 viewers and a .3 in the 18-to-49 measurement. That's
RHOD
's second biggest crowd of the season after the June 6th episode lured 943,000 viewers. But it's also by far the show's biggest drop -- in this case 482,000 viewers. Among Monday's top 100 cable programs ranked weekly by
tvbythenumbers
, that plunged
RHOD
to 67th place in the total viewer ratings.
RHOD
limps off the Season One stage as the only show among the eight spinoffs of
Orange County
to average fewer than 1 million viewers an episode. (Only the April 11th premiere hit the one million mark, but just barely.) Bravo hasn't officially announced whether it's a goner, and recasting is always a possibility. But other than
RHOD
's star-struck media cheerleaders and perhaps the cast itself, there seems to be little support for a continuation of this full-blown embarrassment.
For the most part, the cat-fighting five principals -- Cary Deuber, Tiffany Hendra, Stephanie Hollman, LeeAnne Locken and Brandi Redmond -- consumed copious amounts of alcohol at pretentious parties and gaudy charity functions that gave giving a bad name. The also talked a lot about poop, with the season finale zooming in on a dollop of dog doo soiling the backyard of Travis and Stephanie Hollman, who threw a big, besotted party tied to the Byron Nelson golf tournament. Part of the course adjoins the Hollmans' property.
Meanwhile, the volatile LeeAnne fessed up to needing "help with my anger" before having another showdown with smirking, self-important Cary. Fashioning herself an inspirational speaker, LeeAnne also met with media specialist and former Fox4 reporter Jeff Crilley, whose Real News PR specializes in media training among other things.
Crilley laughed it up when LeeAnne told him, "I'm gonna fart glitter until people see it." He then deluded her into thinking she could make as much as $50 grand per speaking engagement. LeeAnne's eyes lit up the way Brandi's do when a glass of "Jesus Juice" -- or any alcohol -- is within easy reach.
It all ended with pals Brandi and Stephanie "spontaneously" jumping into the Hollmans' pool before Brandi giggled, "Let's go drink another shot."
A tacked-on reunion show is scheduled for Sunday, June 19th at 8 p.m. But those typically don't do as well as the regular season episodes. And
RHOD
didn't do well at all in that realm. We leave you with our rankings of the five principals, plus hapless friend Marie Reyes, in order of their loathe-ability.
1. Cary Deuber
(with an assist from her consistently odd plastic surgeon husband Mark) -- She caught LeeAnne near the finish line and then surpassed her with a series of haughty talk-to-the-camera digs. Cary is all too reminiscent of the blessed-with-good-looks high school creep who delights in taunting kids with braces, pimples or brains.
2. LeeAnne Locken
-- The "carny kid" kept going off her Tilt-A-Whirl, taking offense at every opportunity while flaunting her charity work in a way that would prompt even a Carmelite nun to bitch slap her. Runaway winner of this year's Thinnest Skin in North Texas trophy.
3. Brandi Redmond
-- The former Dallas Cowboys cheerleader alternated between being weepy and getting stinkin' drunk. Swilling "Jesus Juice" by day or night, she also led the
RHOD
league in giggly poop talk and wore a fake dog turd atop the bonnet she flaunted at the annual Mad Hatter's Tea & Luncheon.
4. Stephanie Hollman
-- Her grating laugh, which punctuated virtually everything she said to the camera, nearly vaulted this well-kept wife ahead of Brandi, whose early lead proved to be just too much. Stephanie otherwise catered to her rich bidnessman hubby Travis, who kept her in creature comforts while she balked at doing his bidding -- but then did it anyway.
5. Marie Reyes
-- Although not an official "housewife," she hung around the periphery and then demonstrated a strong finishing kick as a fibbing sandbagger but overall suck-up.
6. Tiffany Hendra
-- She steadfastly stuck by her best friend, Mount Locken, while also trying to jump start the career of her country singing husband, Aaron. No one on
RHOD
came off as entirely likable. But Tiffany gave it a good shot -- or maybe it was just the editors.
Email comments or questions to:
unclebarky@verizon.net