XX random observations on Super Bowl XLV
02/07/11 12:29 PM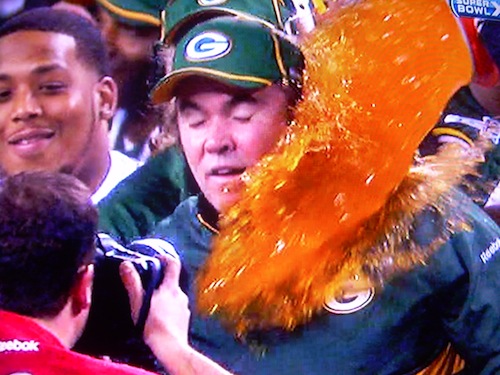 Packers coach Mike McCarthy gets the Gatorade splash. Photos: Ed Bark
By ED BARK
Your friendly native Wisconsinite had a very fun and fine time watching the Green Bay Packers edge the Pittsburgh Steelers in Jerry's Palace Sunday.
Now that I'm of reasonably sound mind and body again, here are XX notes on what transpired.
I.
Four of Fox's five prognosticators, with the understandable exception of former Steelers QB Terry Bradshaw, picked the Packers to win. Twelve of
The Dallas Morning News
' 16 sports staff predictors went with the Steelers. Uncle Barky picked the Pack to win 28-20 in a Friday post. Final score: 31-25. Sign me up.
II.
Fox analyst and former Dallas Cowboys quarterback Troy Aikman said before game time, "I would be shocked if this isn't one of the all-time greatest Super Bowls." He'll get no argument here.
III.
Early Texas editions of Monday's
New York Times
sports section topped their front pages with the headline, "Unsafe Sections Leave Hundreds with Tickets but No Seats." Which means that Cowboys owner Jerry Jones' ham-handed ambitions again blew up in his face. Jones had pockmarked Cowboys Stadium with about 1,250 makeshift seats in hopes of breaking the all-time Super Bowl attendance record of 103,985 for 1980's game in the Rose Bowl. He also persuaded the NFL to count the thousands of fans who paid $200 a pop to sit in the stadium parking lot and watch the game on a big screen. In the end, the official attendance of 103,219 fell short of the record while the
Times
twitted Jones' in-stadium seat-padding gambit as "something of a tragi-comic coda in a week of logistical nightmares and missteps."
IV.
Jones hugged former Cowboys coach Jimmy Johnson, Bill O'Reilly and President Obama made nice to each other and Bradshaw patched things up with Steelers QB Ben Roethlisberger after eviscerating him in early season comments. And this was all during the pre-game buildup, prompting Fox's Curt Menefee to note, "I'm not sure if this is Super Bowl Sunday or Valentine's Day."
V.
Roger Staubach looked increasingly uncomfortable carrying the Lombardi trophy through a gauntlet of jubilant Packers during the post-game ceremonies. "I'm supposed to give it to you, Roger," he said to NFL Commissioner Roger Goodell. "Then I get outta here." Hey, suck it up and be a little more classy about this, oh Sainted One. Emcee Bradshaw in contrast showed how it should be done, exuberantly hailing the Packers as the NFL's newest kingpin.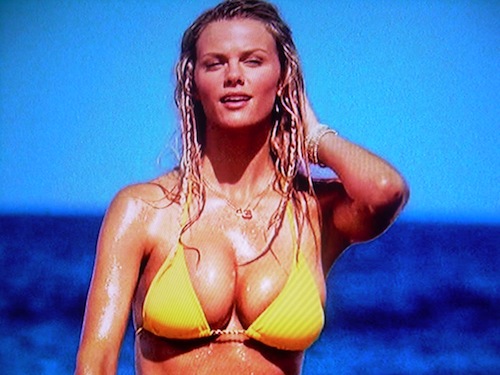 Just before the National Anthem came this double-barreled promo for the new Adam Sandler/Jennifer Aniston film Just Go With It.
VI.
Any pre-teen Little Johnnys watching the big game got a rocket-ride toward puberty via the above, very bouncy visual for the Adam Sandler/Jennifer Aniston comedy
Just Go With It
.
VII.
Grizzled Sam Elliott's filmed black-and-white introductions of the two teams were a little over-cooked, but OK.
VIII.
The pint-sized Darth Vader commercial for Volkswagen deservedly is getting the most post-Super Bowl buzz. Lotsa bang for little bucks.
IX.
The Packers now have won four of the five Super Bowls they've played in. Among teams with at least three appearances, that's the second-best winning percentage, behind only the San Francisco 49ers with a perfect 5-0 record. And it doesn't look as though San Francisco will have a chance to lose one any time soon.
X.
I'm giving Fox's game commentators, Aikman and Joe Buck, an overall grade of B. Solid work, but not particularly distinctive. NBC's Al Michaels and Cris Collingsworth remain the best team in the land.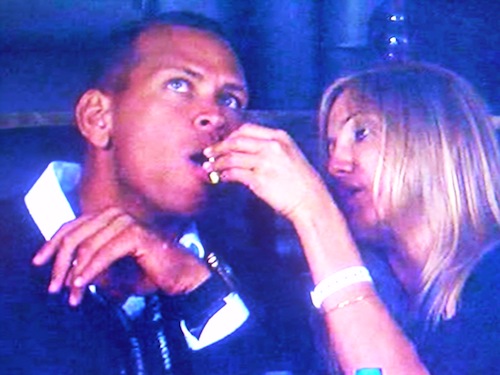 A-Rod gets finger food from handmaiden/gal pal Cameron Diaz.
XI.
Buck did get off a good line, though, after one of Fox's celebrities-in-the-house shots caught Cameron Diaz finger-fooding Alex Rodriguez. "I'm sure Alex is thrilled we just put the camera on him at that moment," he said. "Being fed popcorn."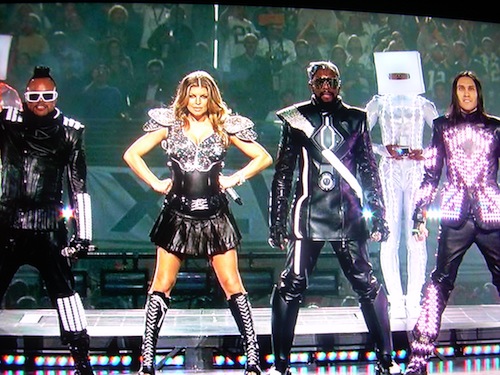 XII.
Upon further review, the Black-Eyes Peas halftime show played better than the first time I looked at it. Although the music obviously was piped in, the four Peas, led by Will I. Am and Fergie, appeared to be actually singing. And if they weren't, their lip-syncing was flawless. Pageantry-wise, the performance jumped off the screen. So while U2 remains the gold standard for Super Bowl extravaganzas, this one gets an overall B+.
XIII.
Glee
's Lea Michele rose to the occasion with a powerful performance of "America the Beautiful" before Christina Aguilera both over-sang and bungled the lyrics during her featured "National Anthem" rendition. So Lea gets an A-minus and Christina a C-minus.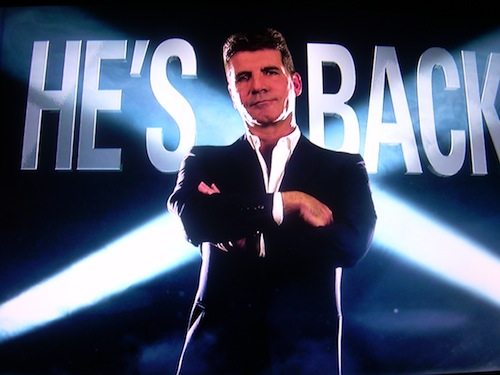 XIV.
The man who needs no further introduction, Simon Cowell, won't be launching his new
The X Factor
talent competition on Fox until next fall. But the network banged the drum loudly for him in a towering Super Bowl ad that ended with the above image. On Monday, Fox followed up with a teleconference in which Cowell said that the
X Factor
winner will get a $5 million record deal. Auditions start on on March 27th in Los Angeles, with Dallas also in the seven-city mix at a later date. There's no upper age limit for contestants, and you can be as young as 12.
XV.
From a pure production and storytelling standpoint, Coca Cola took the prize on Super Bowl Sunday with an animated spot starring fire-breathing dragons and a tale of two stern border security guards who briefly bonded over ice cold bottles of Coke.
XVI.
Who would have envisioned a Super Bowl beer ad for Stella Artois, with actor Adrien Brody literally singing its praises?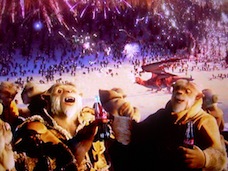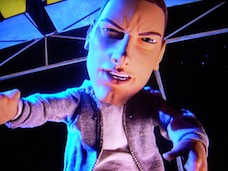 Animation for Coke and a cartoon Eminem for Brisk tea.
XVII.
Eminem double-dipped, voicing a clever animated spot for Brisk tea and following up later with his real self in a stirring, filmic spot for Chrysler that also talked up Detroit. "This is the Motor City. And this is what we do," he proclaimed at commercial's end. Any questions?
XVIII.
That Ozzy Osbourne/Justin Bieber spot for Best Buy? Really lame.
XIX.
Cars and animals again held sway, with seemingly half the ads featuring one or the other -- or both. One of my favorites showed a parked motorist who found himself boxed in by wacky-driving monkeys. But it wasn't selling cars. It was touting careerbuilder.com.
XX.
Finally, below is that pretty amazing "Best. Fans. Ever." spot produced for the NFL and featuring clips from old TV shows whose characters rather magically donned team garb. This is a side-by-side look at how the footage originally appeared -- and how it was doctored.