NBC5's freshman class of 2011 has mostly left the building
10/20/15 09:33 AM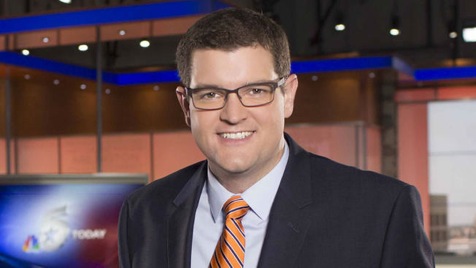 Chris Van Horne: last reporter standing from NBC5's freshman class of 2011. The other seven have all since gone thataway .
By ED BARK
@unclebarkycom on Twitter
A persistent reader and an institutional memory sometimes can lead to a larger story.
In this case, a viewer of Fort Worth-based NBC5 kept wanting to know what happened to reporter Christine Lee and "the blonde chick that was the Plano correspondent."
Lee still lists herself on social media as a reporter for NBC5, but is no longer with the station, vice president of programming Brian Hocker confirmed via email. Nor is the "blonde chick" in question, who's Catherine Ross.
"That's all there is to report here," Hocker said.
There's a wider story, though. And institutional memory served me in this case.
Back in March. 2012, unclebarky.com reported
on a tidal wave of eight new NBC5 reporters, "the bulk of them" hired in 2011 according to former news director Susan Tully, who in June became president and general manager of NBC-owned WVIT-TV in Connecticut.
The additions were part of a corporate-wide initiative to add more than 130 newsroom employees to NBC Universal's 10 owned-and-operated stations, which include NBC5. Five of the eight newcomers were assigned to specific North Texas community beats and also required to live in those areas. Lee, for instance, was responsible for Irving and Grand Prairie while Ross worked out of Plano.
"All of the stations talk about doing local news well," Hocker said at the time. "We're saying that clearly these cities are capable of generating enough local news that they deserve their own reporter. And that's why we're doing this."
NBC5 also mounted an on-air promotional campaign, which began running Feb. 5th, 2012 on Super Bowl Sunday.
Anchor Meredith Land began by telling viewers that "North Texas is made up of many big cities."
"And each of them has a story," anchor Brian Curtis added before anchor Deborah Ferguson said that's why NBC5 is dedicated to being "right there with you, where you live, where you work."
Tully said that all eight of the new reporters were legitimate full-time employees with full company benefits.
Four years later, only one of them, Fort Worth correspondent Chris Van Horne, remains with NBC5. Here's a rundown of where the others are now.
Catherine Ross
(Plano beat) -- In spring of this year she became Interactive Media Manager for the City of Frisco.
Keaton Fox
-- After working the early morning shift for almost two years, Fox left in December of 2013 to join the news staff of Oklahoma City's KOKH-TV, a Fox affiliate.
Tammy Mutasa
(Garland/Mesquite beat) -- She's now with WWT-TV, Cincinnati's NBC station, after leaving NBC5 in October 2013.
Mola Lenghi
-- He also left NBC5 in October 2013 and now is a reporter for WUSA-TV, the CBS station in Washington, D.C.
Sara Story, who's now reclaimed her original surname of Loeffelholz
(Denton beat) -- She's currently senior coordinator , corporate communications for the Kinder Morgan energy company in Houston after leaving NBC5 in January 2013.
Andrew Tanielian
(Fort Worth beat ) -- Currently running North Texas-based Andrew Tanielian Productions after putting NBC5 behind him in October 2012.
Christine Lee
(Irving/Grand Prairie beat) -- No current occupation could be found.
During that big hiring splurge, NBC5 had a total of 35 full-time news, weather, sports and traffic personnel. WFAA8 (before it was bought by Gannett/TEGNA) and CBS11 each had 30 full-timers and Fox4 had 28.
That total actually has increased during the past four years, with NBC5's official website now picturing 36 news, weather, sports and traffic staffers, plus Chopper 5 photojournalist Ames Meyer and longtime entertainment reporter Bobbie Wygant, who's been at NBC5 in some capacity since the station went on the air in 1948.
It's otherwise been a sea of change -- at least in terms of NBC5's street reporting staff. So much so that Van Horne now finds himself a comparative elder statesman after all seven of his original contemporaries have hit the road and made him the last man standing.
Email comments or questions to:
unclebarky@verizon.net