Local vocalist: News anchor Tracy Kornet can carry tunes, too
07/01/08 11:05 AM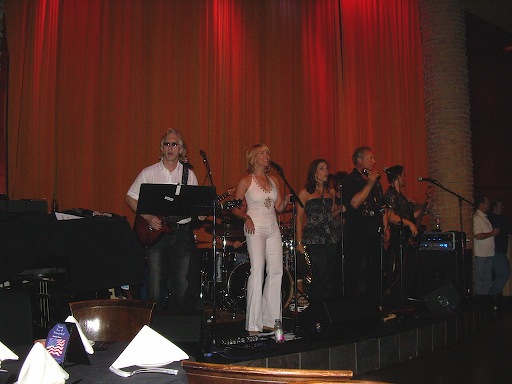 Tracy Kornet (in white) and the Eleven21 band. Photos: Ed Bark
By ED BARK
News anchor by night, lead singer by later night, Tracy Kornet has decided to abide by a song she regularly covers -- Sheryl Crow's "If It Makes You Happy."
"I was a little concerned about being judged really harshly," she says during a break outside Sambuca's in Addison, where Kornet and the Eleven21 band are mixing it up on a Friday night. "There are going to be those people who say, 'She's no journalist. Why is she doing that?' And I just think, 'You know what, it makes me really happy.' And it allows me to use a gift that was implanted in me as a little kid. It's a way to honor my family's legacy, and I need to do it."
Kornet's center stage occupation is co-anchoring TXA21's prime-time weeknight newscasts. Until recently she'd pushed her singing aside while polishing a TV career that began in Lexington, KY. The Chicago native had been raised in a music-driven family by parents who mastered several instruments, including the old-school accordion.
As a young adult, Kornet vocalized with the Japanese pop star Anri on two world tours. She also performed with The Pointer Sisters and Donny Osmond among others. But life on the road neither suited nor anchored her.
"I got those dreams out of my mind really early," Kornet says. "And at age 21, I knew I wasn't gonna do this as a career."
She instead hopped on the mommy track after marrying former Milwaukee Bucks forward Frank Kornet, who lasted two years in the NBA after starring from 1985 to '89 at Vanderbilt University. They've been married nearly 18 years and have three children, John, 17, Nicole, 14, and Luke, who turns 13 this month. Not surprisingly, they're all basketball players.
"I hadn't sung professionally since I started in television, really," says Kornet. "I have been the primary breadwinner of my family for the last 14 years, and my husband has been the dedicated, stay-at-home father. So TV is my bread and butter and my livelihood. And I have absolutely no intention of leaving it behind."
A window opened late last year, though. Kornet had missed her inner singer. And her co-workers at TXA21 and sister station CBS11 just happened to include an array of seasoned musicians.
Tommy Hiett, who keeps the stations' computers on track, also is an accomplished lead guitarist who's played with the likes of Elton John and Huey Lewis and the News. Gary Schneider, senior vice president and station manager for CBS11/TXA21, is a drummer and ex-member of a Rolling Stones tribute band called The Stoneleighs. Saxophonist Richard Frish, general sales manager for Cumulus Radio, has worked with Lee Ann Rimes, The Dixie Chicks and The Gatlin Brothers among others. And so on.
They decided to perform at last year's company Christmas party, with guitarists Dan Dobbs and David Chavez, keyboardist True Tidwell and vocalist Diane Chavez also joining what became the eight-member
Eleven21 band
.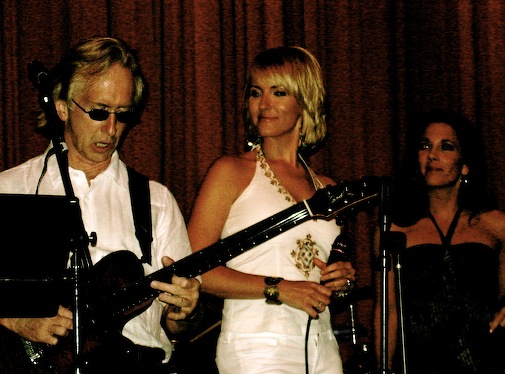 Tuned in: guitarist Hiett and vocalists Kornet and Chavez
"It was a sheer joy to rehearse," Kornet says. "Tears were streaming down my face and my heart was beating a million miles per hour. Wow, I didn't realize how much I missed it."
The Christmas party performance led to a wedding booking. And a few private parties. And now regular engagements at both the Sambuca and Sullivan's nightclub/restaurants.
On this Friday, Kornet co-anchors TXA21's 7 to 9 p.m. newscast from the station's Forth Worth studios. Then she changes into a gold-trimmed white ensemble the way Supergirl might transfer from a business suit to leotards and cape. By 10:15 she joins Eleven21 in progress, belting "Chain of Fools" for starters.
"Every set has a different feel," says Kornet, with the band shifting from hard rock to R&B to "jazzy/mellow" and back again. They cover artists ranging from The Doors to Kool & The Gang to Carrie Underwood to Billy Idol to Santana.
"It's taken me quite a while to loosen up to where I'm comfortable in anything but a suit," Kornet says. "The hardest part has been the clothes and trying to feel comfortable in my own skin."
Drummer Schneider, the designated leader, has a game plan of "not going anywhere where we're playing to empty chairs and ashtrays," Kornet says. "I'm good with that."
There's a history in D-FW of singing TV newsies. NBC5 reporter Nigel Wheeler decided to leave the station last year to concentrate on touring full-time with his band
Egress
, where he performs as Kali Green. Former Fox4 anchor Ashleigh Banfield moonlighted as a lead singer for a rock band during her time in Dallas.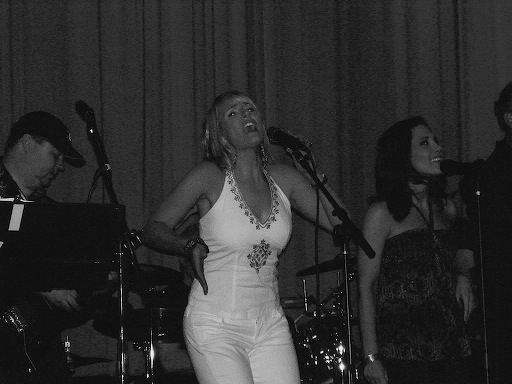 A black-and-white night for the Eleven21 band and singer Kornet.
"I kind of know about the Ashleigh Banfield era," Kornet says. "I think I read about her in an inflight magazine. And I thought, 'That kind of gives me permission to explore a hobby and not worry so much about what everybody thinks.'
"I don't want to take myself so darned seriously anymore. I spent so many years being so self-conscious. Guys in this industry can go out and play golf and so whatever they want (off-camera). Music is my hobby, so why can't I sing? Why can't I go out there and have fun? It feels like a team out there when you have a bunch of other musicians that you have to depend on to create a great sound. I realized it was just a little part of me that I found again. And I'm very blessed that our station allows this and supports our band."
Otherwise she wouldn't be singing anew onstage. "I can't do anything that makes me fear for my job. Period. I can't," Kornet says. "And so I pray that this never becomes that."
She'll be 40 years old in October. And it clearly thrills her to hear a young woman exclaim, "You guys rock!" while an interviewer records her spoken words.
It bears repeating, though. Kornet has no interest in re-becoming what she was nearly 20 years ago -- a full-time singer with a road map that wouldn't quit.
"I wish I could give you that story, but that is
so
not on my radar," she says. "This is not a mid-life crisis thing. I promise."