Local Nielsen ratings snapshot -- Cowboys roundup
01/02/13 09:51 AM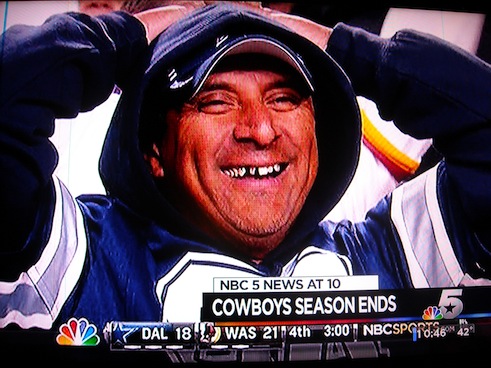 A worn Cowboys fan greets Tony Romo's win-killing interception with a same-old/same-old jack o' lantern smile. Photo: Ed Bark
By ED BARK
@unclebarkycom
The Dallas Cowboys saved their best TV ratings until last while also ending the season with another do or die loss.
Snatched from Fox and showcased in prime-time on NBC's
Sunday Night Football
, the 28-18 closer at Washington averaged 1,652,208 D-FW viewers. That easily topped the audience for the Cowboys' season-opening upset win over the Giants. More on this later.
The Cowboys as usual were a much bigger hit among older viewers than younger ones. Nielsen Media Research data says that 771,732 of the viewers were 50 years or older, with 319,257 of them in the 65+ range.
In contrast, 273,155 viewers in the 18-to-34 demographic watched the Redskins win the NFL East title and advance to the post-season. In the world of prime-time TV entertainment, that audience composition gives most advertisers the chills. But the bulk audience for the Cowboys remains immense.
Sunday's second-biggest TV attraction, the Vikings' high-scoring win over the Packers on Fox, drew 647,115 total viewers, with 263,180 of them 50 years or older. Among 18-to-34-year-olds, the game had 130,712 viewers.
During the holiday season, the Cowboys also lost an overtime home thriller to the New Orleans Saints on Dec. 23rd. Fox amassed 1,094,588 total viewers for that noon-starting game.
Now that the 2012 season is over and out, here's a look at the top-to-bottom D-FW crowds for all 16 Cowboys games. Measurements are in total viewers, with D-FW ranking as the No. 5 TV market in the country with 6.884 million available viewers.
Cowboys at Washington Redskins, Dec. 30 on NBC -- 1,652,208
Cowboys at New York Giants, Sept. 5 on NBC -- 1,348,046
Redskins at Cowboys, Nov. 22 (Thanksgiving Day) on Fox -- 1,301,114
Cowboys at Atlanta Falcons, Nov. 4 on NBC -- 1,280,461
Giants at Cowboys, Oct. 28 on Fox -- 1,218,503
Philadelphia Eagles at Cowboys, Dec. 2 on NBC -- 1,218,503
Pittsburgh Steelers at Cowboys, Dec. 16 on CBS -- 1,177,198
Cowboys at Seattle Seahawks, Sept. 16 on Fox -- 1,110,952
Tampa Bay Buccaneers at Cowboys, Sept. 23 on Fox -- 1,110,952
Cowboys at Cincinnati Bengals, Dec. 9 on Fox -- 1,108,356
Cowboys at Baltimore Ravens, Oct. 14 on Fox -- 1,101,472
New Orleans Saints at Cowboys, Dec. 23 on Fox -- 1,094,588
Cowboys at Eagles, Nov. 11 on Fox -- 1,087,704
Chicago Bears at Cowboys, Oct. 1 on ESPN/TXA21 -- 1,018,862
Cleveland Browns at Cowboys, Nov. 18 on CBS -- 984,441
Cowboys at Carolina Panthers, Oct. 21 on Fox -- 950,020
Comment:
Two Cowboys games fell below the one million mark this season. And the Oct. 1 blowout loss to the Bears on
Monday Night Football
barely got over that hump.
As
previously reported
, the Cowboys hadn't dipped below one million viewers since an embarrassing Halloween Sunday home loss to the lowly Jacksonville Jaguars. But that game, with a TV crowd of 907,276, basically served as a warmup act for that night's Game 5 of the 2010 World Series between the Texas Rangers and San Francisco Giants. The Cowboys fell to 1-6 with that loss en route to the firing of head coach Wade Phillips after the following week's humiliation in Green Bay.
But this season's climactic TV audience for the Cowboys -- 1,652,208 -- far exceeded the crowd for last season's win-or-go-home finale. The Cowboys' season-ending thrashing by the Giants drew 1,490,302 viewers on NBC. On the other hand, many tuned out down the homestretch of a 31-14 thumping by the G-men.
The Cowboys remain a huge draw in Big D, despite overall diminished ratings this season. But they're going to have to generate stronger appeal among advertiser-coveted younger viewers, many of whom have seen nothing but mediocrity from "America's Team."
Winning cures all ills. But another non-playoff season could well double the number of sub-one million audiences in 2013.
unclebarky@verizon.net