That's what we're talkin' about: Rangers win Game 1 against Rays
10/06/10 03:55 PM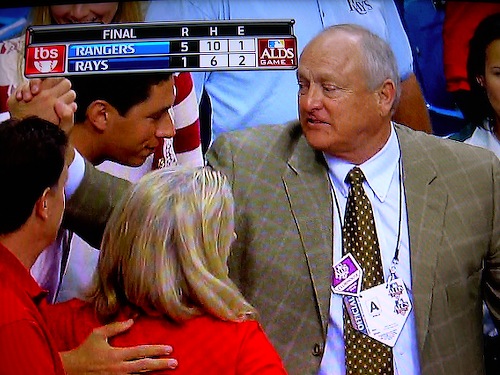 Texas Rangers brain trust, led by team president and co-owner Nolan Ryan, celebrates happy returns in Tampa. Photo: Ed Bark
By ED BARK
Timely power hitting and a strong, 10-strikeout seven innings from starter Cliff Lee gave the Texas Rangers their first post-season win since 1996 in Game 1 at Tampa Bay.
The Rangers' two-run second inning matched the team's entire 6-game scoring output in the 1998 and 1999 playoff sweeps at the hands of the Yankees. The game ended with a 5-1 Texas win after a semi-scary 9th inning in which closer Neftali Feliz walked the first two hitters he faced and survived a line shot to right field before ending the game with two strikeouts.
TBS carried the game during early to mid-afternoon hours, no doubt evading interest on the part of much of the country. Ratings in D-FW, which will be available Thursday, also might be misleadingly low. Nielsen Media Research still hasn't entirely gotten the hang of registering sports bar viewing, let alone workplace TV sets in use.
Commentators Don Orsillo and Buck Martinez seemed to do a solid job for the most part. But it's obvious that Texas isn't high on the TBS pecking order right now. The Rangers after all aren't playing the Yanks, who will get Wednesday's prime-time berth in their game at Minnesota.
Lee had some shaky early innings, escaping a bases loaded, one out jam in the first. But in the end he gave the Rangers exactly what they paid for -- a dominating starting pitcher and now a commanding position in these playoffs.
Another midseason acquisition, veteran catcher Benji Molina, also excelled with three hits, including a two-run homer in the 4th inning.
Even WFAA8 sports anchor Dale Hansen was on hand,
"Crossing State Lines"
to travel all the way to Tampa Bay after very, very seldom venturing to Arlington to watch the Rangers play in recent seasons. Good for him. He'll bring a lot to the party, even if he ranks as D-FW's consummate fair weather fan. Oh, but we kid. Sorta.