Where's Candice and who's Toni? CW33 strikes again
02/24/11 08:56 AM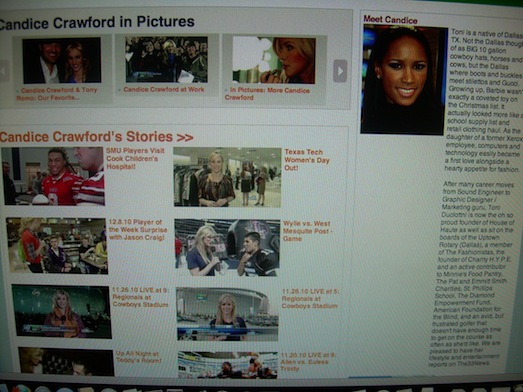 Meet Candice? Hey, that's not Candice. Photo: Ed Bark
By ED BARK
Struggling CW33 probably needs to fix this at some point.
The Dallas-based station's website continues to picture Dallas Cowboys quarterback Tony Romo's fiancee, Candice Crawford, as part of its News Team. But click on her page and you get a picture of someone else, named "Toni," under the "Meet Candice" portion -- which in fact is all about Toni.
As previously posted, Crawford left the station earlier this year to start planning her wedding. While at CW33, the former Miss Missouri USA reported on high school sports, did the weekly "Up All Night" feature and also collaborated with colleague Roni Proter on the five-minute "RC Project" segments that closed out the station's early evening newscast.
Toni is newcomer Toni Duclottni, who also has her own
"House of Haute" blog
. Her latest story for CW33, "Keeping Up with Kim (Kardashian)," aired on Wednesday's 9 p.m. newscast, which drew just 27,703 D-FW viewers. Here's her Kardashian moment.