Superman: Dirk's 29 in the 4th a singular Dallas sports feat
11/03/09 10:15 PM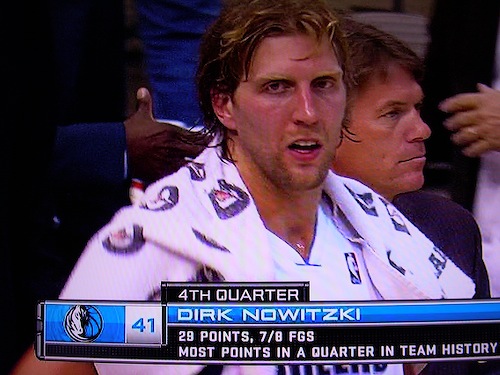 Dirk Nowitzki's record finish raised Mavs from dead. Photo: Ed Bark
By ED BARK
Sure it was only Game No. 4. But this was the Dirk we've been waiting for.
Unchained, unyielding and bar-room brawling his way to the basket, Dirk Nowitzki carried the Dallas Mavericks like never before Tuesday night. His team record 29 -- 29!!! -- points in the fourth quarter took the Mavs from a seemingly lopsided home loss to a resounding 96-85 victory over the Utah Jazz. It broke a 25-year-old team record for points in any quarter, surpassing Mark Aguirre's 24 a quarter-century ago.
Nowitzki, who ended up with 40 points for the game, clearly wanted the ball to himself after watching his teammates do essentially nothing for much of the game. He willed the Mavs to this win, stunning the commentators on Fox Sports Southwest with one of the most electrifying one-man shows in Dallas sports history.
You just love to see things like this. Soft? Nowitzki had iron in his jock strap on this night. And if this is a sign of things to come, then the Mavs finally have their true Kobe. Or Larry Bird if you will. A guy who demands the rock when it matters and then sinks the opposing ship.
What an effort. Dirk Nowitzki may have earned the NBA's Player of the Month honor with just a single night's work. Now let's see if the rest of the Mavs follow his lead.
***
Oh yeah. On a decidedly lesser note, former Dallas Cowboys great Michael Irvin finally got voted off ABC's
Dancing with the Stars
Tuesday night. He gave it a game go, but his eviction was at least a couple of weeks overdue.