Gold and Green for WFAA8
01/23/09 12:13 PM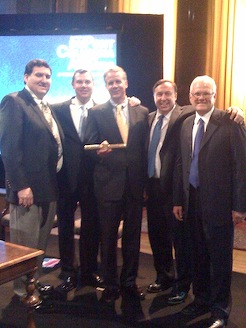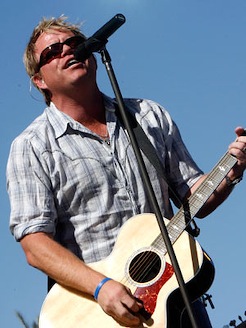 Reporter Brett Shipp holds Gold Baton; singer Pat Green picks guitar.
By ED BARK
WFAA8 officially became the first local television station ever to win a
duPont-Columbia Gold Baton
at Thursday night's awards ceremony in New York City.
As
previously posted
, reporters Brett Shipp and Byron Harris were honored for three investigative series. Also cited by duPont jurors were producer Mark Smith, editor and photographer Kraig Kirchem and news director Michael Valentine, all pictured above at a ceremony hosted by
CBS Evening News
Katie Couric at Columbia University.
***
WFAA8's
Good Morning Texas
will be giving Texas singer/songwriter
Pat Green's
new CD a big promotional push.
Green is set to perform singles from "What I'm For" on all of next week's
GMTs
, beginning with the Monday, Jan. 26th show.
"We are pleased to help him introduce these new songs . . . and talk with him about the inspiration behind his life and music,"
GMT
executive producer Dave Muscari says in a WFAA8 publicity release.
GMT
airs at 9 a.m. weekdays.