Local Nielsen ratings snapshot (Fri.-Sun., Sept. 6-8) -- Cowboys rise up in latest season opener
09/09/13 10:54 AM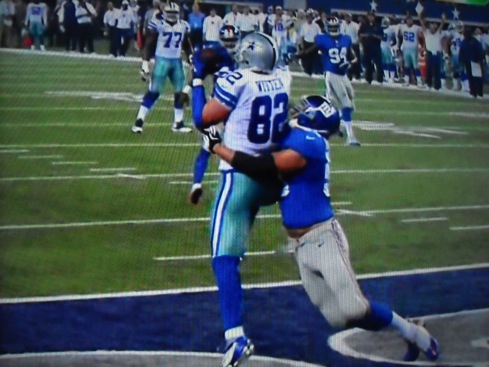 Jason Witten catches the first of his 2 TD passes. Photo: Ed Bark
By ED BARK
@unclebarkycom on Twitter
The Dallas Cowboys' 36-31 season-opening win over the New York Giants amassed a bigger NBC crowd than last year's first game win on the G-men's home field.
The Peacock's first
Sunday Night Football
game of the year, which stretched to 10:43 p.m. in Jerry's Palace, averaged 1,542,061 D-FW viewers and 803,729 in the advertiser-prized 18-to-49 motherlode. The 2012 Cowboys opener, which NBC telecast on a Wednesday night in deference to Thursday's Democratic National Convention finale, drew 1,348,046 viewers with 793,373 in the 18-to-49 age range.
NBC's 2011 prime-time Cowboys opener, a meltdown road loss to the Jets, still ranks highest among these New York states of mind with respective totals of 1,634,465 and 835,812 viewers.
Earlier Sunday, Fox's San Francisco 49ers-Green Bay Packers game was the day's second highest TV attraction with 667,767 total viewers. Fox's preceding Saints-Falcons game placed No. 3 on the charts with 447,747 viewers, drubbing CBS' competing Bears-Bengals game (192,758 viewers).
The Texas Rangers' Sunday afternoon road win against the Angels, salvaging the final game of a 3-game series, dwelled in relative obscurity with 89,495 viewers on Fox Sports Southwest. Over on AMC Sunday night, the 8 p.m. shoot 'em up episode of
Breaking Bad
pulled in 137,684 total viewers in direct competition with the Cowboys.
Saturday night's Rangers-Angels game on FSS had 68,842 viewers while the team's Friday night game on TXA21 managed the largest crowd with 165,221 viewers.
In Friday's local news derby results, WFAA8 swept the 10 p.m. competitions with wins in both total viewers and 25-to-54-year-olds, the main advertiser target audience for news programming.
Fox4 twice edged WFAA8 for the top spots at 6 a.m. NBC5 ran the table at 5 p.m. and added a 6 p.m. win in total viewers. WFAA8 had the most 25-to-54-year-olds at 6 p.m.
LOCAL TV NOTE
The Monday, Sept. 9th live 7 p.m. premiere of NBC's
The Million Second Quiz
will include Dallasite Leigh Guerra-Paz as a "Line Jumper." She's a 32-year-old attorney and a University of Texas at Austin graduate. She qualified by getting a high score on the multi-million dollar quiz's home app game. Ryan Seacrest hosts, with air dates on Sept. 9-14 and Sept. 16-18 before a Sept. 19 finale.
NBC is banking on
Million Second Quiz
to be a mushrooming ratings "event" that also will double as a promotional showcase for its new fall lineup.
Email comments or questions to:
unclebarky@verizon.net