Absent an on-air goodbye, anchor Ron Corning is quickly out of the picture at Daybreak and WFAA8
03/20/19 11:11 AM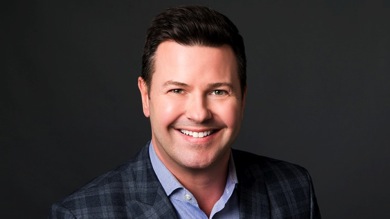 By ED BARK
@unclebarkycom on Twitter
There will be no long goodbye for Ron Corning, now the former co-anchor of WFAA8's early morning
Daybreak
program.
After a nearly eight-year tenure that began in April of 2011, Corning became part of the station's history less than a week after staffers were informed by executive news director Carolyn Mungo on Monday, March 11th that he'd be
leaving at an undetermined time
to "pursue some exciting new opportunities."
That time turned out to be Friday, March 15th, and without any on-air acknowledgements. His bio since has been taken off WFAA8's website, a surefire sign of an employee's exit.
Corning later confirmed to a Twitter follower named Michelle that "Last Friday I wrapped up my time at
Daybreak
. But I will announce my next move right here soon." He added a smiley face emoji.
The official "News 8 Daybreak" twitter feed, also in response to a viewer query, said that meteorologist Greg Fields (also off the air this week), will return Monday after vacationing. And that "Ron announced last week that he would be leaving for a new opportunity. We wish him well."
The handling of Corning's departure was in stark contrast to the
March 1st retirement of longtime WFAA8 anchor John McCaa
, who received a lengthy sendoff from the station while his successor, Chris Lawrence, was heavily promoted as his successor.
Corning, who has declined to comment further on what turned out to be a surprisingly quick exit, told unclebarky.com on March 11th that he has a number of other career possibilities outside of WFAA8 and decided to "take a leap of faith . . . because I do have other goals I want to achieve and other experiences I want to have."
WFAA8 reporter/anchor Marie Saveedra, who
joined the station in July 2013
, has been co-anchoring this week with
Daybreak
's incumbent Kara Sewell. In her memo to station staffers, Mungo said that Corning's position would be posted shortly. But this doesn't necessarily mean that WFAA8 will go "out of house" or even name a male anchor to succeed Corning.
NBC5 has been going with two women anchors on its early morning program after
Marc Fein was dropped
in the middle of the February "sweeps" ratings period.
Fox4's
Good Day
continues to dominate the early morning ratings, particularly in the key 6 a.m. hour, as no station ever has. Its weekday winning streak in both total viewers and with 25-to-54-year-olds is nearing a year in length. Fox4 hasn't been beaten in either ratings measurement since March 30th of last year, which was Good Friday.
Absent Corning for Monday's March 18th edition of
Daybreak
, second place WFAA8 took an unusually severe beating from Fox4 in the 25-to-54-year-old demographic. In the 6 a.m. hour, Fox4 drew 98,791 viewers in the 25-to-54 age range while WFAA8 had 38,085.
Email comments or questions to:
unclebarky@verizon.net