Old, tired and all but dead: Mavs crap out against Timberwolves
02/05/10 10:18 PM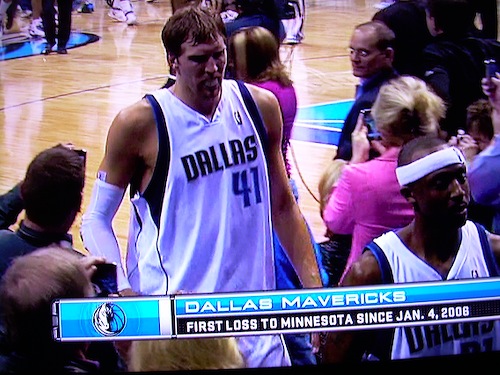 A disconsolate Dirk hangs head after latest Mavs loss. Photo: Ed Bark
By ED BARK
Let's be blunt. The Dallas Mavericks stink. Stink on ice. Stink to the point of losing by nine points(!) on their home floor Friday night to the really crappy Minnesota Timberwolves.
I'd been holding back on this, but it's clear at this point. All is lost. The Mavs are old, tired and destined to flop in the post-season.
Dirk is drained, disgusted, dinged up and staggering into the showcase NBA All-Star game next weekend in Dallas. He didn't start Friday night because he showed up late for the team's shoot around. Who could blame him.
Dunce cap Josh Howard is playing like Moe Howard for the most part, again prompting trade rumors. As if anyone would want him.
The Shawn Marion acquisition is pretty much a bust, adding more age to a team that has seven players over 30.
The Mavs looked formidable in the early going, but have cratered miserably as the season wears on. You just DON'T lose to a team that was 11-38 going into Friday's game and had just three road wins. But the Mavs found a way.
This is a team that at long last needs to be rebuilt. No one is indispensable. In fact, I'd love to see Dirk traded to a team that had a genuine chance to win a championship. That team is not the Mavericks. Everyone should know that at this point. In a high octane league, the Mavs at this point are hamster-powered. It's hard to see anything changing down the stretch. Would you like the Mavs' chances in the playoffs against the precocious Oklahoma City Thunder?
I wouldn't. And that's a shame.