Fox4 gets a leg up with at least one more scheduled Cowboys game than the last two seasons
04/18/12 09:41 AM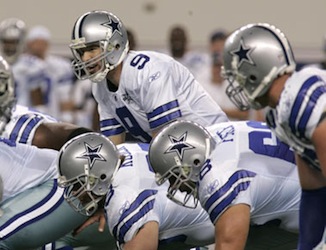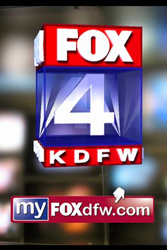 By ED BARK
The newly released 2012 Dallas Cowboys TV schedule is being received warmly over at Fox4.
For the first time in the past three seasons, the ostensible home of "America's Team" is getting 10 games instead of nine. And last year, that number shrank to eight after NBC's
Sunday Night Football
used its "flex" option to cherry-pick the regular season finale against the New York Giants.
That could happen again this season if the season-ending game at Washington, scheduled for a noon start on Fox4, ends up being "meaningful" for either team. NBC likely would snatch it in that case. But whatever happens, Fox4 will get at least one more 2012 regular season game this season. And from a revenue and visibility standpoint, that's pure gold.
Dallas ended up 8-8 last season, again failing to make the playoffs. Still, NBC likely would take its full complement of three prime-time Cowboys games if the team finished 0-16 and lost all of its pre-season games as well. Why? They're ratings magnets, nationally and locally.
As
Sunday Night Football
play-by-play man Al Michaels told unclebarky.com last summer, "There are only two teams in all of sports that I can think of that engender love and hate to that extreme."
Namely, the Cowboys and the New York Yankees, Michaels specified. So are the Cowboys the Howard Cosell of the NFL? "You're exactly right," he said, pitching in with an impression of his old
Monday Night Football
booth mate. "The Dallas Cowboys are the Howard Cosell of
Sunday Night Football
."
NBC will have the Cowboys to kick off the season, on Wed., Sept. 5th at the Giants. The unprecedented Wednesday night curtain-raising is to avoid preempting President Obama's acceptance speech at the following night's Democratic National Convention. Dallas also will light up
Sunday Night Football
on Nov. 4th at Atlanta and Dec. 2nd in a home game against the Philadelphia Eagles.
Fox4 is scheduled to get four of the last six regular season Cowboys games, though, including the annual Thanksgiving Day home game, this time against the Redskins.
The difference maker for Fox4 this season is the absence of a Cowboys game on the NFL Network. So that's at least one more regular season game in the bank for this season, no matter what NBC's future plans are for the Dec. 30th closer.
If everything goes right for Fox4, Dallas somehow will have clinched a post-season berth before then while the Redskins again have already been eliminated. NBC and
Sunday Night Football
then likely would turn elsewhere, robbing other local stations in the process.
Here's the Cowboys' regular season TV schedule:
Wed., Sept. 5 -- at NY Giants (NBC)
Sun., Sept. 16 -- at Seattle (Fox)
Sun. Sept. 23 -- Tampa Bay (Fox)
Mon., Oct. 1 -- Chicago (ESPN)
Sun., Oct. 7 -- Bye week
Sun., Oct. 14 -- at Baltimore (Fox)
Sun., Oct. 21 -- at Carolina (Fox)
Sun., Oct. 28 -- NY Giants (Fox)
Sun., Nov. 4 -- at Atlanta (NBC)
Sun., Nov. 11 -- at Philadelphia (Fox)
Sun., Nov. 18 -- Cleveland (CBS)
Thurs., Nov. 22 -- Washington (Fox)
Sun., Dec. 2 -- Philadelphia (NBC)
Sun., Dec. 9 -- at Cincinnati (Fox)
Sun., Dec. 16 -- Pittsburgh (CBS)
Sun., Dec. 23 -- New Orleans (Fox)
Sun., Dec. 30 -- at Washington (Fox)