Local Nielsen ratings snapshot (Fri.-Sun., May 4-6) -- Mavs go down hard, almost lose head-to-head against Rangers
05/07/12 03:15 PM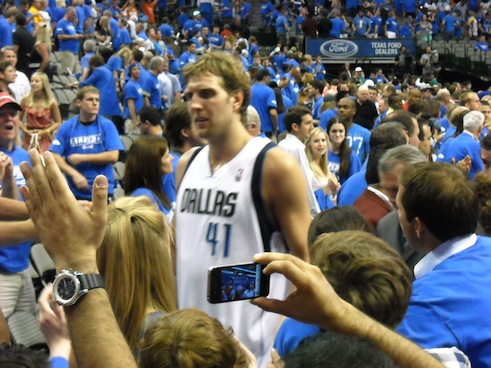 No walk-off home run for Dirk. He leaves the floor for the last time this season after Mavs get shut out by OKC. Photo: Ed Bark
By ED BARK
@unclebarkycom
The Dallas Mavericks' last playoff game of the season, a 4th quarter meltdown loss to the springy Oklahoma City Thunder, ended up being the least-watched as well.
In fact, the Texas Rangers' extra winning win at Toronto came close to beating Mavs-OKC in virtually head-to-head competition Saturday night. And during the 15-minute Saturday segment in which the race was actually run, NBC's telecast of the Kentucky Derby had bigger audiences than both of them.
Game 4 at least was a moral victory for TXA21's homegrown telecast, which for the first time decisively outdrew its cable counterpart in their post-season matchups. TXA21 averaged 149,030 D-FW viewers while TNT had just 67,741. The combined total of 216,771 fell dramatically below the 379,350 viewers for Games 1 and 2, and the 372,576 for Game 3.
On Fox Sports Southwest, the Rangers' dramatic win against the Blue Jays averaged 196,449 viewers. Wow, that's only 20,322 fewer than the Mavs had for their do-or-die game against the Thunder. And the Derby had 325,157 viewers between 5:30 and 5:45 p.m. Saturday.
In the end, Dallas blew a 13-point lead at the start of the fourth quarter, with their old tree trunk legs turning to rubber while OKC's saplings blew right by them to complete a 4-0 sweep of the defending champs.
Friday night's Rangers-Blue Jays game on TXA21 averaged 230,319 viewers while FSS's Sunday afternoon finale of their three-game series drew 169,353 viewers. With the Rangers slumping of late, even another start by Yu Darvish couldn't quite do the trick Sunday, even though Texas-Toronto still outdrew all competing afternoon programming.
In Friday's local news derby results, CBS11 swept the 10 p.m. competitions in both total viewers and 25-to-54-year-olds, the main advertiser target audience for news programming.
Fox4 and WFAA8 tied for the total viewers lead at 6 a.m. while Fox4 nipped WFAA8 for first place among 25-to-54-year-olds.
WFAA8 took the 6 p.m. gold in total viewers, but Friday's other news wins went to Fox4, which ran the table at 5 p.m. and added a 6 p.m. topper in the 25-to-54 demographic.