Denmon returns to weekend anchoring at WFAA8 while her discrimination lawsuit continues to divide the Dallas-based station
10/02/11 10:36 PM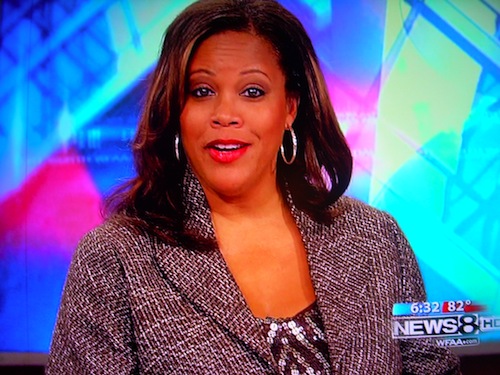 Debbie Denmon during Saturday's early evening news. Photo: Ed Bark
By ED BARK
Smiling on the outside, WFAA8 anchor Debbie Denmon has resumed anchoring the station's weekend newscasts after missing the latter half of September.
As
previously reported on unclebarky.com
, Denmon is suing the Dallas-based ABC affiliate, claiming she has been discriminated against because of her weight. Readers have flooded the story with comments, the great majority of them pro-Denmon to date.
Denmon has been unavailable for comment, and WFAA8 management likewise has had nothing to say. News director Michael Valentine, whom Denmon claims has blocked her path to a weekday anchor slot because of her plus-size stature, has not responded to emails asking for a response or an official station statement.
WFAA8 president and general manager Mike Devlin likewise has ignored requests for comment and how apparently is out of town. An automated email reply last Thursday said that Devlin will be out of the office from Sept. 29th until Oct. 17th.
"I will have limited access to email and will attempt to reply," his return message said. "I will be checking messages on a regular basis."
Sources at WFAA8 say that more than 20 witnesses were called by Denmon's legal representatives in advance of what would have to be mandatory arbitration if it reaches that point. WFAA8 employees are contractually bound to settle any discrimination suit via arbitration rather than in a courtroom before a judge and jury.
"It's been difficult for her," one WFAA8 source said. Not that it's been a bed of roses for either station management or the witnesses called, among them longtime sports anchor Dale Hansen. Denmon's representatives are seeking to use Hansen as a prime example of an on-air personality who has never been penalized because of his weight. On the contrary, he regularly jokes about being an old, fat, bald guy during sports segments, although those comments may well be off limits while the Denmon case is pending.
Denmon has been with WFAA8 since October 2000. The station previously was charged with discrimination by former anchor Scott Sams, whose attorney claimed he was dropped by the station in 2004 "because of his religion, his age and the fact that he's a white guy." An arbitrator awarded Sams $683,771 in January 2007, with WFAA8 attorneys saying it was just four percent of what he originally asked for. Both sides claimed victory.
Sams eventually became CBS11's weekday early morning co-anchor, but was dropped earlier this year after a four-year stay. He now is a co-anchor on KRLD radio's (1080 AM) morning drive program.