This just in: a night in the lives of D-FW's late night local newscasts (Thurs., Nov. 18)
11/19/10 12:34 PM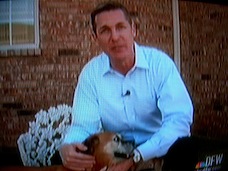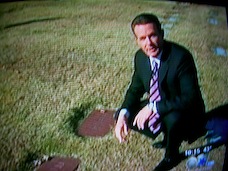 NBC5 anchor Brian Curtis reported on puppy mills while CBS11 anchor Doug Dunbar looked at a mystery gravestone next to Lee Harvey Oswald's during Thursday's 10 p.m. newscasts. Photos: Ed Bark
By ED BARK
It used to be standard operating procedure, in this market and many others throughout the country.
A TV station's most prominent anchors -- the ones entrusted to do the marquee late night newscasts -- also would make it a point to get out of the studio and do some actual reporting, particularly during ratings "sweeps" periods. No one wanted to be dismissed as a pure and simple "news reader."
Those days have made a comeback in D-FW at both NBC5 and CBS11. And on Fox4's featured 9 p.m. newscasts, the anchors lately are at least required to think on their feet by conducting lengthy live in-studio interviews on most nights.
That leaves WFAA8's standardbearers,
John McCaa
and
Gloria Campos
, conspicuously clinging to their anchor desks during the ABC station's 10 p.m. newscasts. They haven't been doing any reporting or interviewing despite a
latter day WFAA8 promotional campaign
that pictures them in the field during spots proclaiming, "We're heading out. Crossing state lines. Seeing new places. Exploring new views. Meeting new faces. Bringing home the kinds of stories no other local station can."
McCaa and Campos may be heading out to dinner, but others at WFAA8 are left to hit the streets of both North Texas and more distant venues. Let's also emphasize that both of them know how to report after amassing years of experience before taking their desk jobs. But while contemporaries at rival stations reacquaint themselves with reporting skills, McCaa and Campos remain in close vicinity to their in-studio TelePrompTers.
This was glaringly evident during Thursday's late night newscasts.
Both of CBS11's star anchors,
Doug Dunbar
and
Karen Borta
, had reports that took them out of the studio. On NBC5, anchor
Brian Curtis
likewise ventured into the field, as he did on the previous night as well. His anchoring colleague,
Meredith Land
also regularly leaves the studio to bank stories for future use. And on Fox4, anchors
Steve Eagar
and
Heather Hays
almost always conduct lengthy question-and-answer segments with various newsmakers and experts.
Hays had the night off Thursday, leaving Eagar in charge of an elongated discourse on the marked decrease in marriage rates, according to a new national survey. For instance, in
Leave It to Beaver
days, 70 percent of all adults in their 20s were married, according to the latest data. Now only 26 percent of twentysomething adults are hitched, due in part to increases in divorce rates and the inclination to wait until later in life. For many others, marriage just isn't an end-all, be-all anymore.
Eagar was joined in-studio by "relationship expert" Nina Atwood and Fox4 reporter
Matt Grubs
, who introduced excerpts of his street interviewing on the subject. One of the interviewees was his wife, the station noted. For the record she's art gallery director Bonnie McClung.
On CBS11, Dunbar had an intriguing story on a gravestone emblazoned with "Nick Beef." In recent years it popped up right next to the marker for Lee Harvey Oswald at Shannon Rose Hill cemetery in Fort Worth. Who is Oswald's grave mate? That remains something of a mystery, but some say it's the stage name of a comedian who had the headstone placed there so that visitors could more easily find Oswald's burial spot. Rose Hill cemetery officials long have refused to give directions to Oswald's grave, but for awhile were willing to say where Nick Beef is buried. Now they won't say where the Beef is either.
Dunbar by no means is the first to report on the Nick Beef headstone. But he did get out there and interview people, including an elderly couple who live near the cemetery and witnessed Oswald's burial. Monday will mark the 47th anniversary of President Kennedy's assassination in Dallas, and Dunbar also has done an interview with former motorcade Secret Service agent Clint Hill. It's scheduled to air on Friday's 10 p.m. newscast.
Borta's contribution Thursday night was an "exclusive" interview with former Cowboys coach Tom Landry's widow, Alicia Landry. It was tied to a just-announced reopening of a "Remembering Tom Landry" exhibit that proved to be a major attraction at the State Fair. The exhibit, which has a nominal adult admission fee of $2, will be back in view on the day after Thanksgiving and remain open until Super Bowl XLV in Arlington.
Borta did a nice job on the Landry interview while also touring the exhibit with her.
On NBC5, Curtis reported on worries that Texas could become the "Puppy Mill capital of the country" after neighboring states passed laws regulating their sizes and operations.
The Texas Humane Legislation Network is lobbying for a Texas law, but the Responsible Pet Owners Alliance helped to defeat a proposed bill the last time around. According to its statement to NBC5, "If breeding is regulated out of existence there'll be no animals left. We call it the 'pet elimination bill.' "
Supporters told Curtis they only want to end inhumane and overcrowded conditions for the puppies. Accompanying footage from a previous police raid showed what Curtis described as "deplorable conditions" at some mills.
Critics at WFAA8 might say that none of the above stories require any heavy lifting by the anchors involved. In that case, McCaa and Campos might want to be anchors away themselves. So far they're still not in the game while rivals continue to practice the old time religion that WFAA8 in particular used to embrace.
IN OTHER STUFF . . .
Thursday brought some heavy-duty courtroom drama with the case of a former Fort Worth police officer who recanted an earlier "Not Guilty" plea in the case of a young wife and mother who was killed when his vehicle smashed into hers. He had been drinking heavily at the time.
The outwardly remorseful defendant, Jesus Cisneros, broke down in court before the mother of the deceased told of the never-ending pain he had inflicted on her family. He then was given a 20-year prison sentence. Fox4 and NBC5 both led their newscasts with the dramatic testimony while CBS11 offered an extended excerpt midway through the newscast. WFAA8 curiously had no coverage at all on its 10 p.m. newscast. And the
station's website
has only a brief AP story on the verdict after reporter
Chris Hawes'
detailed story a year ago on the tragically fatal crash.
***
Hawes was otherwise occupied Thursday night with a compelling story on an Arizona family that had adopted four Texas children before learning that all of them had been "severely sexually abused." The Texas Dept. of Human Services failed to notify them of this. And the emotionally scarred adopted children soon were molesting the couple's three youngest biological children.
The family involved had their names changed for Hawes' story, with their youngest children's faces digitally obscured. The adopted children eventually all were returned to the state after the couple was warned that they could lose their own children after unwittingly putting them in danger. They're now suing a Tarrant County caseworker and her supervisor.
***
WFAA8 also had a good story by
Monika Diaz
, who reported that some businesses that balk at paying fees to join the Better Business Bureau in turn are getting failing grades from the BBB despite few if any complaints against them.
***
On Fox4,
Emily Lopez
had an interesting story on a parent-student program designed to dent the 50 percent Hispanic dropout rate in a DISD whose "vast majority" of students are Hispanic. That makes for an especially alarming situation. The station also had a solid package on General Motors' post-bailout resurgence, with both Eagar and reporter
Shaun Rabb
contributing.
NOTE TO READERS:
This is the closing installment in our latest "Night in the Lives" looks at what the late night newscasts are up to in ratings "sweeps" periods. I hope you found it to be worthwhile, readable and possibly even thought-provoking. Whatever the case, it's more satisfying to point out good work than to single out bad. That said, it's also important to be pointed.
Thanks for your readership.