WFAA8 tabs Tashara Parker as Daybreak traffic anchor
10/19/19 09:10 AM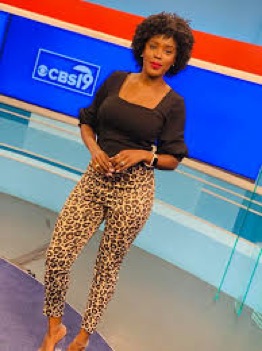 By ED BARK
@unclebarkycom on Twitter
Dallas-based WFAA8 has quickly named a successor to Demetria Obilor, who
left the station's Daybreak
earlier this month in pursuit of new opportunities after some clashes with co-workers.
The newcomer is Tashara Parker from nearby KYTX-TV of Tyler. She'll join WFAA8 before the onset of the November "sweeps" ratings period, which this year begins on Halloween.
"Thrilled to announce I've accepted a position at @wfaa as Morning Ensemble Anchor and Traffic Reporter!" Parker said on
her Twitter page
. LEGGOOOO!"
She accompanied the announcement with a #TasharaTakesTexas hashtag and video of her dancing on the set of KYTX, a CBS affiliate which, like WFAA8, is owned by Virginia-based TEGNA, Inc.
Parker, a Texas A&M grad who also has a masters degree in journalism from DePaul University, has been anchoring the weeknight 5, 6 and 10 p.m. newscasts on KYTX. Her station bio, which also bills Parker as a "solo storyteller," says she has a "vivacious spirit" and is "someone who truly cares about people and this community. She lights up the room with her awesome personality."
Parker currently is a small-timer on "social media" compared to her predecessor, with 2,296 followers on Twitter and 10.5 K on Instagram. Obilor, who specializes in being showy, has 157.1K followers on Twitter and 652,000 on Instagram.
"I just do me. On air, off air," Obilor said in an August 15th tweet that is still pinned to the top of her account.
WFAA8 currently is locked in a tight three-way battle in the key 6 to 7 a.m. slot with NBC5 and longtime champ Fox4. Under TEGNA ownership, the station has become appreciably more social media-centric than its competitors, with its "Morning Ensemble" in almost constant high gear on Twitter and other platforms.
The station recently released a 4-minute
"I'm Makin" a Move"
YouTube dance video (embedding disabled) starring the entire
Daybreak
crew, save for Parker. Even longtime meteorologist Greg Fields, who used to be strictly nuts and bolts, joins in as best he can while others look more like naturals. Fields and news anchors Kara Sewell and Marc Istook dress up as a painting crew while reporters Sean Giggy and Chris Sadeghi initially are shown as a milkman and a delivery man. Video lives forever.
The production values are first-rate, though. So much so that the cost of making this short film likely could pay several annual reporter salaries. The message also is clear. WFAA8's morning show is intent on breaking boundaries wherever and whenever it sees fit. A younger, more "desirable" audience is the end game. To that end,
Daybreak
is not your grandfather's, father's or even older sister's "newscast." Whether you'll buy in is still up in the air.
Email comments or questions to:
unclebarky@verizon.net