This just in: a night in the lives of D-FW's late night newscasts (Thurs., Jan. 31)
02/01/08 10:58 AM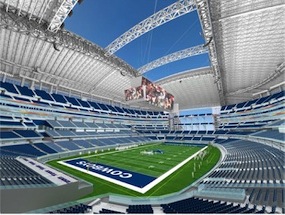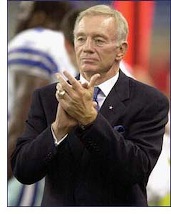 By ED BARK
Smells like "sweeps" spirit, doesn't it?
D-FW television's four major news providers all had their featured anchors and reporters on duty Thursday as the bell rang for another four-week period of heightened competition and promotion.
CBS11 impressively pounded the pavement with more exclusive and fleshed-out stories than its rivals while gumshoe
Brett Shipp
led No.1-rated Belo8 into battle by taking on Jerry Jones and the Dallas Cowboys.
NBC5 threw out much of the usual piffle, topping its 10 p.m. newscast with the story of an alleged pellet gun-shooting granny whose now remorseful great grandson says he was the one shooting dinky plastic ammo at parked cars before heading off to school. At least its newscast had some entertainment value, though. Fox4 in contrast had a surprisingly forgettable 9 p.m. outing with scant crackle, pop or eye-catching reporter initiative.
The dogged Shipp's grade-fixing expose last November resulted in South Oak Cliff High School being stripped of its 2006 state basketball title last week. His tackling of the Cowboys' high-priced club seats and companion "Personal Seat License" surcharges didn't resonate with nearly as much force or importance.
Basically, well-heeled season ticket holders are being asked to pay small fortunes to stake their claims to VIP views at the Cowboys' new and still under-construction stadium in Arlington. "The fees and the fury," co-anchor
Gloria Campos
called it before Shipp told viewers that sales apparently have been sluggish so far.
A jewelry store owner, for one, says he won't be renewing his season tickets after a 15-year run. Shipp also went to Illinois to interview a "sports economist" who not surprisingly raised his eyebrows.
Buried in Shipp's story was the fact that prices haven't been disclosed yet for 65,000 seats set aside for commoners. Until that announcement, do many people care all that much about Jones' "courting the wealthy?" What else is new?
The owner wouldn't talk to Shipp, but vp of marketing Greg McElroy contended, "So far we haven't seen a negative reaction."
Shipp plans to report Friday on questions being raised about deals made between Jones and the city of Arlington. That might be of more interest . But the high prices and attendant costs for stadium club seats were publicized last year. On Thursday's report, Shipp basically recycled that information while adding that the Cowboys might be facing resistance from some longtime loyal customers. Even so, there no doubt are other upper-crusters waiting in line while the little guys bide their time.
CBS11 led with reporter
Jay Gormley
's interesting exclusive on SMU's proposed efforts to curb drinking and drug abuse by some students. The university is considering opening an on-campus pub, Gormley said. Also, fraternities might be allowed to serve alcohol at in-house parties, provided that a campus cop is present. It's all meant to keep students safer and on campus rather than in outlying bars.
NBC5's
Randy McIlvaine
gunned his station's engine with the opening tale of a granny arrested for hitting a parking lot passerby with a pellet.
"I feel real bad, 'cause it's kinda like my fault," said her great grandson, who apparently had been acting like an idiot with his new air rifle. This perhaps is a "talker," but does it merit the top spot in a viewing area this size?
Fox4 led with a live dispatch by
Brandon Todd
from a public hearing on a new grade-changing scandal at Roosevelt High School in Dallas. But Belo8's Shipp broke that story on the previous night.
The station's
Lari Barager
then joined fellow reporters at NBC5 and CBS11 in recapping a Mesquite woman's apparently made-up claim that she'd been assaulted with a "stun baton" by a man posing as a police officer.
The woman's husband, Keith Knight, "didn't want to go on camera and do an interview," Barager told viewers.
He did, however, talk on camera to NBC5's
Grant Stinchfield
and to an unattributed reporter on CBS11. Belo8 chose to ignore the story on its 10 p.m. newscast.
All four stations had stories on a "groper" suspected of sexually assaulting at least six women in Plano. CBS11 reporter
Jack Fink
and Fox4's
Lynn Kawano
both landed interviews with one of his victims. Her interviewee opted to be identified on-camera; Fink's unidentified victim was in silhouette.
NBC5 regularly deploys the word "scary" in such cases. This time it came from a Plano woman who said, "I think it's very scary . . . We're not safe anywhere, unfortunately, anymore." Belo8 reporter
Shelly Slater
didn't talk to anyone, either live or on tape, during her brief standup from Plano.
CBS11's Thursday late nighter also featured solid enterprise stories by
J.D. Miles
and
Stephanie Lucero
.
Miles reported on the "shock probation" release, after just five months in jail, of a man who helped the infamous "Texas 7" escape from a South Central Texas prison seven years ago. Their victims included an Irving police offer whose widow understandably is outraged. Dallas County district attorney Craig Watkins added, "I think our justice system has been slapped in the face."
Lucero's story detailed an alleged multi-million dollar scam by the Farmers Branch-based Unique Performance company, commissioned to make pricey "muscle cars" from scratch by the likes of baseball star Jason Giambi and former Secret Service agent James Bartee, whom Lucero interviewed on camera.
It turns out that some of the cars were being less than professionally built by inmates in East Texas prisons. Bartee, among others, has never received either his car or the $106 grand he paid for it. But an attorney representing the owner of Unique Performance contended in a statement that authorities are engaged in a "witch hunt.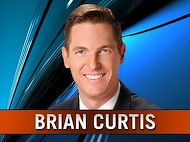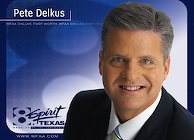 NBC5's Brian Curtis, Fox4's Heather Hays and Belo8's Pete Delkus
THIS AND THAT***
NBC5 brandished another of its "Weight Loss Wonder" stories by
Brian Curtis
, who reported on a "hot new diet book" that says, among other things, that a quarter pound burger without cheese actually has fewer calories than a chicken club sandwich. Curtis quizzed predictably surprised consumers at a shopping mall food court before his story ended with a below-the-waist closeup of a big fat ass in motion.
***
Fox4 reporter
Jeff Crilley
had an interesting piece on the fifth anniversary of the Space Shuttle Columbia tragedy over Nacogdoches County, in which seven astronauts died.
***Heather Hays
, co-anchor of Fox4's 9 p.m. news, had an extended story on the dangers of obesity in children. But it also served as a borderline infomercial for a plus-size clothes store touted by both Hays and a plump teen named Marisol. The station also plugged a link to the store on its web site.
***
Both Belo8's
Chris Hawes
and Fox4's
Fil Alvarado
reported capably on a retired brigadier general whose American flag on his Bedford front porch has been stolen nine times by a punk or punks shown on his surveillance camera. His front window also was smashed during the last theft, but no one's been caught yet.
***
Belo8's chatty duo of weatherman
Pete Delkus
and sports anchor
Dale Hansen
both got their licks in on opening night of the sweeps. Oft-reticent news anchor
John McCaa
got the ball rolling for Delkus. "You're lovin' this, though," he said of the area's persistent high winds.
"Look at this hair," Delkus retorted. "I'm
not
lovin' this, John. It's terrible for me. The only thing worse would be a lot of humidity."
But Big Pete's close-cropped coif looked immovable as usual.
Hansen looked notably trimmer, even dapper in a dark pin-stripped suit. In fact, a brief piece on Nolan Ryan, who might become president of the Texas Rangers baseball team, showed the Hall of Fame pitcher now looking puffier than Hansen -- and with less hair, too.
He otherwise weighed in after brief closing video of a frozen waterfall in Minneapolis, on which someone had spray-painted "WOW."
"I got fired up there," Hansen reminisced. "It was the fifth of my eight firings."
He signed a long-term contract extension with Belo8 last year. So this time he's not going anywhere.
AND FINALLY . . .
Delkus noted that "the boss had major surgery" Wednesday after ripping the bicep muscle of his left arm off the bone.
That's a reference to news director
Mike Valentine
, who suffered the injury while playing basketball. It's hoped he has a speedy recovery.