Shipp strikes again with investigation of powerful Southlake Carroll football program
08/25/10 11:08 AM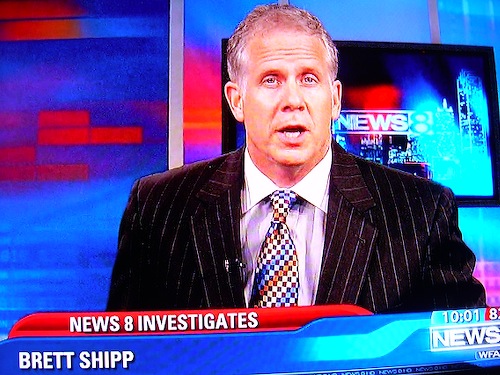 By ED BARK
Call him anything but timid.
Instead star WFAA8 gumshoe Brett Shipp has the temerity to take on the state's most powerful high school football factory, Southlake Carroll.
Shipp's lengthy investigation of whether the school's star starting quarterback is eligible to play this season topped the Dallas-based station's 10 p.m. newscast Tuesday. It had both confrontational drama (also known as "good TV") and some seemingly very legitimate questions about the transfer of QB Daxx Garman to Southlake for his senior year after he was ruled ineligible to play at Jones High School in Oklahoma.
With Garman leading the way, Jones won six games and a district football title that it since has forfeited after officials determined that he and his parents actually lived outside the school district on a 25-acre ranch in Choctaw. Now it's an open question whether the Garmans have established residency in Southlake, whose Dragons football team has won four Class 5A state championships since 2000. The highly regarded Daxx Garman already has verbally committed to play at the University of Arizona.
Shipp and WFAA8 photographers presented convincing visual evidence that Garman's father, Pat, continues to live in Oklahoma, where he owns a concrete contract company. Texas University Interscholastic League eligibility rules state that "any relocation of residence is a complete and permanent move for the family." There's also a question of whether Garman would first have to sit out "at least an equal number of games" forfeited by Jones High before he could throw a pass for Southlake.
Confronted at an Oklahoma gas station by Shipp and station photographers, Pat Garman said "I absolutely do" when asked if he lives in Southlake. Matters then went further south when more questions were asked. Garman, who looked big and mean enough to break Shipp in two, first cursed him and then threw a bag of ice at him. It was all captured on tape and of course became the money shot of Shipp's story.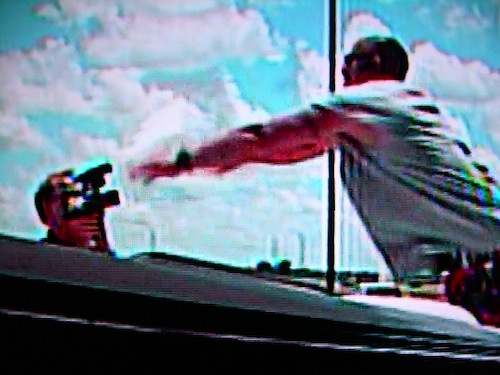 Pat Garman tries to ice down shooting Shipp. Photos: Ed Bark
Shipp also grilled Southlake athletic director Kevin Ozee, who affixed a frozen smile while dancing around some direct questions about his "due diligence" in the Garman matter.
At one point he asked, "Excuse me. Pardon me. Am I on trial? Am I on trial?"
Well, yeah.
Shipp also noted that the Garman home in Oklahoma just happened to be put on the market on the very day (Aug. 10th) that he interviewed Ozee. The athletic director said the home had been for sale since "sometime back in the spring."
The newly constituted District Executive Committee, local decision-making body for the UIL, is scheduled to look into the Garman situation later this week while most if not all Southlake football fans get busy cursing Shipp. It's not the first time he's investigated a high school athletic program. In November 2007 Shipp looked into grade-fixing tied to South Oak Cliff's basketball program. The Dallas Independent School District later ruled that the school had to forfeit its 2006 state title.
In an
interview at the time with unclebarky.com
, Shipp said he had been "bombarded with hate mail," but to no avail. He's been there before during a long and largely distinguished career that has won him multiple Peabody and duPont Columbia awards.
"It doesn't faze me," he said. "That's what the 'delete' button is for on the computer. I just keep going."
Those who contended that Shipp's investigation of the mostly black South Oak Cliff was racially motivated might want to hit their pause buttons to note that Southlake is a prosperous, mostly white suburb. Fair is fair.
In contrast Tuesday night, NBC5 reporter Omar Villafranca investigated an infrared hunting camera shot of "something hovering in the night sky" above a woman's Archer City ranch. The
old UFO gambit
came after Monday's
sub-ridiculous 10 p.m. story
on a star-struck "Twitteratzi" who revels in her supposed relationships with tweeting celebrities.
But no, NBC5 wasn't a turnoff on either night. The station swept both Monday's and Tuesday's 10 p.m. D-FW Nielsen ratings, although a bounteous lead-in audience from NBC's
America's Got Talent
certainly didn't hurt the Tuesday numbers.
Here's video of Shipp's story.