Comparing and contrasting: How the Obama exclusive played on Denver TV station (updated)
04/19/11 02:20 PM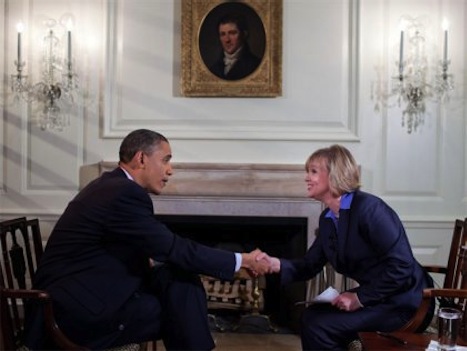 This chummy picture is prominent on Denver's KCNC-TV website.
By ED BARK
As noted in the preceding post on this page, TV stations in Denver, Indianapolis and Raleigh also had one-on-ones with President Obama Monday.
KCNC, Denver's CBS station, sent "political specialist" Shaun Boyd to the White House as its emissary. Her comparatively cuddly one-on-one interview is quite a contrast to the sometimes "tense" faceoff between the president and WFAA8's Brad Watson.
See for yourself in the below video from Monday's latenight newscast on KCNC. As of mid-afternoon Tuesday, the other two stations hadn't yet posted their late news interviews.
NOTE TO READERS: Since KCNC lately has made video of the latenight newscast interview unavailable, here's a link to reporter Boyd's other one-on-ones with Obama, which aired on various newscasts.