Romo on receiving end of Laufenberg's head slaps
02/09/09 02:40 PM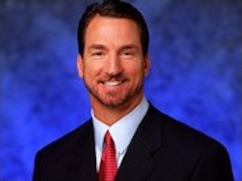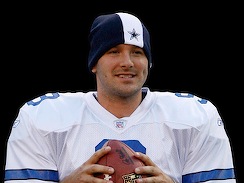 By ED BARK
CBS11 sports anchor Babe Laufenberg and squeezable Dallas Cowboys QB Tony Romo aired it out late Sunday night at a neutral site.
Rather than go to Romo's home or Laufenberg's studio, they
went one-on-one
at the Four Seasons in Las Colinas. No free bar, though.
Laufenberg's
The Score
, delayed until nearly 11 p.m. by the three-and-a-half-hour Grammy Awards ceremony, regularly delves into Cowboys' topics large and small. And exclusives can be a bit easier to come by when you're also the paid-by-the-team analyst for Cowboys' radio broadcasts, as WFAA8's Dale Hansen was for years until owner Jerry Jones finally lowered the guillotine.
That said, Laufenberg asked appropriately hard questions of Romo during their extended and heavily promoted sit-down. But Romo, whose mug and twiddling thumbs were captured in extreme closeup throughout, may not have inspired overwhelming confidence in his ability to lead the Cowboys to those Super Bowl promised lands. The fire in his belly seemingly could still stand a few bellow shots.
Romo joked that if the day comes when he sucks, then Laufenberg could replace him.
"For the record, if you get replaced by me, you'd really suck," the Babe rejoined.
He's got that right. As the injured Troy Aikman's backup at the end of the 1990 season, Laufenberg made Brad Johnson seem like Johnny Unitas in the Cowboys' final game against the then 4-11 Atlanta Falcons. Needing a win to make the playoffs, he went a miserable 10 of 24 with two interceptions and three sacks in a 26-7 loss. It's not known how the post-game press conference went, but the Babe was known as an amiable jokester during his NFL daze with the Washington Redskins, New Orleans Saints, San Diego Chargers and Cowboys.
"We'd only be able to talk about your career for about five minutes," Romo retorted after Laufenberg asked, "Do you wanna switch chairs?"
Laufenberg did note that he's the guy who told Troy Aikman that Romo in fact had the credentials to be a topflight NFL quarterback.
"Ask him," Laufenberg challenged.
"I appreciate it," said a grinning Romo.
The 2009 Cowboys will "work our butts off," take practice more seriously and "give 100 percent every time we're out there," Romo said at various times. But his body language still seemed more like creamed corn than tempered steel.
The Cowboys will try hard, but "it's unrealistic to think you're going to win seven titles in a row," Romo said. One or two Super Bowls in a 10-year career would be good, he added. That's probably not what owner Jerry Jones wants to hear.
Meanwhile, Romo's girlfriend, the much-maligned Jessica Simpson, is scheduled to appear live on Wednesday's edition of CBS'
The Early Show
, where she'll perform her new single "Pray Out Loud" while also helping to announce nominees for the Academy of Country Music Awards. It'll be her first TV appearance since the "recent publication of controversial pictures," says a CBS publicity release, referring to Simpson's alleged recent weight gains.
Laufenberg asked Romo about Simpson, wondering "Who has it worse?"
Romo said that she probably takes criticism more personally than he does. "I'm a guy so I'm probably a little more emotionless."
Try as he might, Laufenberg couldn't bring Romo to a boil emotionally. That left Sunday night's big, ballyhooed interview at a less than crowd-pleasing simmer.