Just who was that mustachioed man?
11/15/13 03:34 PM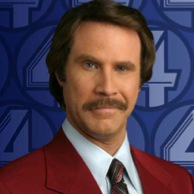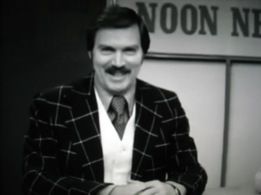 By ED BARK
@unclebarkycom on Twitter
Yeah, it surprised me, too. I didn't know that Ron Burgundy once anchored at KTVT-TV, now better known as CBS11.
A new 30-second station promo uses black-and-white still shots to salute the "innovators who led the way" back when KTVT was D-FW's pre-eminent independent station.
The spot includes the above shot of a Burgundy lookalike, who's seated next to a woman co-anchor who was cropped out for the purposes of this little dispatch. But really, who is this guy?
CBS11 director of communications Lori Conrad as usual was very helpful. She asked around and found out it's John Whitson in a picture from the early 1970s. Your friendly content provider then did some further Internet research and along the way discovered that Whitson married his co-anchor at KTVT, Kathleen Krebbs, in 1981. She went on to become a "senior lecturer" at the University of North Texas and still goes by the name Kathleen Krebbs Whitson.
But is Whitson's future wife the woman seated next to him in the promo? Or had the station hired someone else to join him by 1981? Conrad again came through after asking some of KTVT's long-termers. Yes, the noon news duo in the promo indeed is Whitson and Krebbs. And so what started out as a Ron Burgundy mess-around yielded a nice little side story. In large part because I can't think of any other instance in the D-FW market where co-anchors ended up being husband and wife. Can you?
Meanwhile, here's the promo, which has two still shots of Whitson and Krebbs. The second one comes a split-second before the current anchor team of Doug Dunbar and Karen Borta pops in.
Email comments or questions to:
unclebarky@verizon.net