Nice guys finish third -- on prominent website's all-time worst list
11/17/10 10:30 AM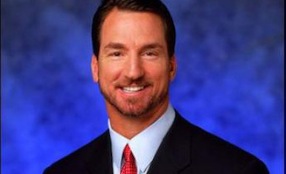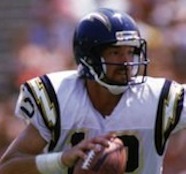 Babe Laufenberg in CBS11 photo and with San Diego Chargers.
By ED BARK
A new
deadspin.com list
of the NFL's all-time 100 worst players is at first gentle to CBS11 sports anchor Babe Laufenberg, former backup quarterback for the Dallas Cowboys, San Diego Chargers and New Orleans Saints.
"On the bright side, Laufenberg was beloved as one of football's true nice guys" the website says before ranking him as the third worst NFL player ever.
Highlighted is Laufenberg's well-documented, dismal close-out of the 1990 season as a replacement for injured Cowboys QB Troy Aikman. Dallas needed just one win in the last two games to make the playoffs. But Laufenberg completed a grand total of just 23 of 60 passes, with one touchdown and six interceptions. The Cowboys lost both games.
Laufenberg, who's had a pretty good sense of humor about these things over the years, was edged out by former Bears/Cardinals QB Rusty Lisch (No. 1 on the list) and Giants kicker Bob Timberlake, the runnerup.
But the Babe was rated worse than even former Cowboys QB Ryan Leaf, a former No. 2 overall draft pick who threw two touchdowns and 15 interceptions in his rookie season with the Chargers. Leaf ranked No. 5.
Other former Cowboys in the top 100 are Shante Carver (No. 11); Paul Palmer (No. 32); Elvis Patterson (No. 33); Golden Richards (No. 34); Johnny Mitchell (No. 43); Drew Henson (No. 61); Everett McIver (No. 68); Quincy Carter (No. 70); Bobby Carpenter (No. 98) and oddly enough, Larry Brown (No. 100).
Deadspin say that Brown had "no speed, no hands, no confidence -- and he lucked into the Super Bowl XXX MVP trophy (as a Cowboy) when Pittsburgh quarterback Neil O'Donnell threw him two softies."
Laufenberg perhaps can take some comfort in the fact that he at least played the game at its highest level while his D-FW sports anchor competitors -- Dale Hansen, Newy Scruggs, Mike Doocy -- did not.