WFAA8 looking for new news director after Michael Valentine's promotion to corporate position; station's Byron Harris wins another duPont-Columbia award for reporting (updated)
12/21/11 07:46 AM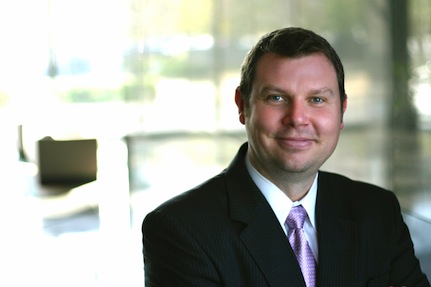 News director Michael Valentine is moving up the corporate ladder.
WFAA photo
By ED BARK
Dallas-based WFAA8 has begun the search for a new news director with the promotion of Michael Valentine to a corporate position, station sources tell unclebarky.com.
In his new position he'll be "working with Belo Corp. news departments on corporate initiatives" after relocating to corporate offices across the street from WFAA8 studios in downtown Dallas. Belo owns a total of 20 television stations.
Valentine, who was named WFAA8's news director in April 2005, is expected to remain in that capacity until a successor is chosen. The ABC affiliate hopes to make the transition by February, sources say. Mike Devlin retains his position as WFAA8's president and general manager.
Valentine joined WFAA8 from Belo's Norfolk/Hampton station, WVEC-TV, where he also had headed the news department. He was 36 at the time.
Fox4,
as previously posted
, hired a news director earlier this month to replace the departed Maria Barrs, who now is president and general manager at ABC's Sacramento television station. Robin Whitmeyer, who last worked at WSOC-TV in Charlotte, NC before leaving that station in February, is scheduled to join Fox4 on Jan. 9th.
NBC5 and CBS11 also have women news directors, respectively Susan Tully and Adrienne Roark.
In the November "sweeps" ratings period, WFAA8 topped the four-way 10 p.m. field in both total viewers and 25-to-54-year-olds, the main advertiser target audience for news programming.
The station finished third in both audience measurements at 6 a.m. while also lagging at 5 and 6 p.m., according to data from Nielsen Media Research.
ANOTHER MAJOR AWARD FOR WFAA8 INVESTIGATOR BYRON HARRIS
-- WFAA8 on Wednesday won its 11th
duPont-Columbia Award
, this time for a
News 8 Investigates
series titled "Bitter Lessons."
It's the fifth duPont for investigative reporter Byron Harris, one of which he shared with colleague Brett Shipp in 2009 when WFAA8 became the first local television station to ever win a Gold Baton for overall excellence. Harris' other duPonts are Silvers.
During his 36 years with WFAA8, Harris also has won two equally prestigious George Foster Peabody Awards. Colleague Shipp, besides the Gold Baton, has collected three individual Peabodys and two du-Pont Silver Batons. That makes them the most-honored investigative reporter duo in the history of any local television station.
The "Bitter Lessons" series, which also received a Peabody award earlier this year, investigated irregularities in the lucrative, government-funded career school industry. Producer Mark Smith and photographer/editor Billy Bryant also worked with Harris on the series.
"In a tough economy, fewer and fewer local stations are committed to serious investigations," WFAA8 president and general manager Mike Devlin said in a statement. "However, WFA remains vigilant in dedicating the needed resources to provide viewers with these stories."