CW 33 news director addresses rumored romance between newly hired sports reporter and Cowboys QB Tony Romo
09/02/09 02:39 PM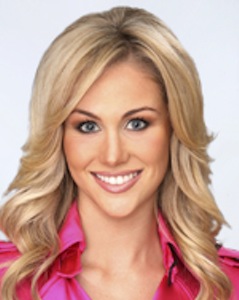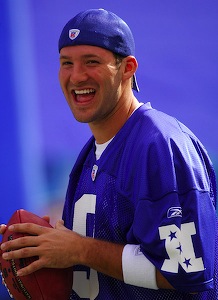 Candice Crawford, HS sports reporter for The 33, and Tony Romo.
By ED BARK
Is she or isn't she? Even her news director still doesn't know for sure.
Rampant gossip site postings, later picked up unsubstantiated by numerous other websites, say that Candice Crawford, who covers high school sports for Dallas-based CW33 (KDAF-TV), lately has been dating Dallas Cowboys QB/horndog Tony Romo. They may or may not have hooked up during her ongoing stint with the weekly
Cowboys Special Edition
, which airs Saturdays at 10:30 p.m. on rival CBS11 and is produced by the team.
David Duitch, who
hired the former Miss Missouri USA
in July, said Wednesday that he hasn't asked Crawford, 22, about any such relationship. Nor has she told him anything.
"Candice's personal life is her own business, and I don't ask her who she dates," Duitch said in his first comments on the matter. "If I learn of any conflict of interest, it would be addressed."
Crawford was out of the office on both jobs Wednesday, Duitch said. She worked for
Special Edition
in the morning and then headed immediately for her high school assignment for CW33. She so far hasn't returned a phone call asking for comment.
Duitch, who became CW33's news director last summer, said Crawford told him of her work for
Special Edition
before the station hired her. Being on the Cowboys payroll is nothing new in local TV sports. CBS11 sports anchor Babe Laufenberg currently is the team's approved radio analyst, teaming with Brad Sham. Before that it was WFAA8 sports anchor Dale Hansen.
"I informed Candice she would not be allowed to cover the Dallas Cowboys for us," he said. "I know I can depend on Candice to conduct herself as the professional she is."
She might be a harried professional of late. Google's national search trend site had her No. 1 earlier Wednesday before Crawford slipped to No. 7 by mid-afternoon. Could her ability to focus on high school sports coverage via
cw33gameday.com
be compromised by packs of slobbering paparazzi?
"I know she's covering the high school football games, and people know where she's going to be each week," Duitch said. "I really have only seen Candice act in a very professional way since she joined our staff. And I have every expectation that she would continue to act that way."
Romo, for his part, seems to be ever on the prowl, lately for blondes. The 29-year-old's recent breakup with Jessica Simpson came after a relationship with former
American Idol
champ Carrie Underwood.
Before he became the Cowboys' first string quarterback, Romo attempted to go through an intermediary to date Mesquite model Shannon Hughes, who placed second in NBC's 2005 "reality" series search for a
Sports Illustrated
swimsuit model. But she was already engaged (scroll to the
bottom of this unclebarky.com story
for more details on that misfire).
CW 33's Crawford recently interviewed a pair of Allen High School senior quarterbacks for one of her reports. Backup Tucker Carter confided, "I wear the same boxers every game day."
"Do you wash them?" Crawford inquired.
He assured her he does.