This just in: A night in the lives of D-FW's late night newscasts (Wed., May 13)
05/14/09 01:45 PM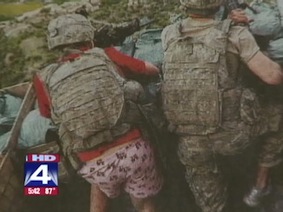 By ED BARK
Fox4 reporter
Lari Barager
deserves a silver star or at least a sharpshooter's medal from her station's boss ladies.
As noted in Tuesday's roundup, the savvy veteran scooped rival stations with her quick reactions to a now famous AP photo of a U.S. soldier in pink skivvies and flip flops helping his fellow soldiers respond to a Taliban attack in Afghanistan.
The picture made the top of the front page in Tuesday's
New York Times
. But on that night's D-FW newscasts, only Barager uncovered the big local angle. The soldier, Zachery Boyd, is from Fort Worth. And Barager had the only interview with his mother on Tuesday's 9 p.m. Fox4 newscast.
"He can play golf in his boxers, and now he's shooting the Taliban in his boxers, Sheree Boyd said, laughing.
Barager's primo human interest story resonated -- a day later -- on the 10 p.m. newscasts of NBC5, WFAA8 and CBS11.
WFAA8 put
Chris Hawes
on the scent after prominently promoting her piece during Wednesday's two-hour finale of ABC's
Lost
. CBS11 served its seconds via reporter
Jack Fink
. NBC5 made do with a
Jane McGarry
reader that included the picture of Boyd in his colorful "I Love NY" undies.
For Barager it was a "clean kill," to use a time-honored journalism phrase. Meanwhile, as rival stations played catch-up, she had the only in-depth story Wednesday night on the Kimbell Art Museum's big score of an exceedingly rare Michelangelo canvas that he painted as a teenager.
CRISTAL LIGHT
-- Revelations of former Dallas Cowboys quarterback Tony Banks' brief hookup with Dirk Nowitzki's now infamous ex-fiancee, Cristal Taylor, made the cut on all four major TV newscast providers. But only WFAA8 and CBS11 had interviews with Banks himself. Both stations led their 10 p.m. newscasts with the Banks/Taylor angle.
Gary Reaves
did the honors on WFAA8 and
Carol Cavazos
carried the ball for CBS11.
GOOD WORK
-- WFAA8 gumshoe
Brett Shipp
, with help from a vigilant area blogger, uncovered questionable expenditures and content tied to the Collin County Fusion Center, which gathers data on "criminal and crisis information" with 94 agencies via the Internet.
Its designer and operator, Dr. Bob Johnson, operates the center from his Santa Fe home on a $1.2 million budget. He's the son of Texas congressman Sam Johnson.
Critics say that Dr. Bob has "taken a sharp right turn away from computer science towards political science, blurring the line between public protection and propaganda," Shipp told viewers. Among other things, Dr. Bob has targeted "hip hop fashion boutiques" as possible terrorist training grounds.
The center also awarded a $100,000 grant to Dr. Bob's brother-in-law, Shipp said. It's certainly enough to raise eyebrows, which Shipp's report did.
***
WFAA8's
Jason Whitely
also had a worthy story on the continuing financial problems of Dallas' historic downtown Majestic Theatre, which lately has had to give up the Dallas Summer Musicals, which will be returning to Fair Park.
***
CBS11's
Jay Gormley
had a telling report on the dangerous Hampton and Perryton intersection, located near the heavily traveled Kiest Park as well as a school, hospital and library. Residents say that speeding drivers often ignore traffic signs despite the heavy presence of children in the area. A mother and her two young kids recently were injured by a hit-and-run driver.
***
NBC5 reporter
Scott Friedman
, one of the station's best, had an interesting story on the increase in vasectomies during tough economic times. They're seen as a way to save on the monthly cost of birth control bills. A Baylor doctor said there's lately a boom market for the basically painless procedure, which often is covered by medical insurance and takes only about five minutes to perform. Friedman focused on a married man who had a vasectomy after already fathering four children. His wife was all for it.
WHEN IN DOUBT, KISS UP
-- Viewers aren't particularly served by this. But station employees clearly want to please the boss during times of continued economic duress and attendant layoffs.
So on CBS11's sports segment, anchor
Babe Laufenberg
made sure to include footage of president and general manager
Steve Mauldin
sinking a birdie putt during a Dallas Cowboys golf outing after first getting a tip from quarterback Tony Romo. Mauldin then exchanged high fives and fist bumps with onlookers.
Later in the sportscast, Laufenberg noted that Dallas Mavericks owner Mark Cuban was in Las Vegas getting an advertising industry Clio Award while his team was being knocked out of the playoffs in Denver.
"To add to Cuban's pain, receiving an honorary Clio tonight with him -- Barry Manilow," the Babe snarked.
Five more nights to go.