This just in: a night in the lives of D-FW's late night newscasts (Tues., Nov. 27)
11/28/07 12:36 PM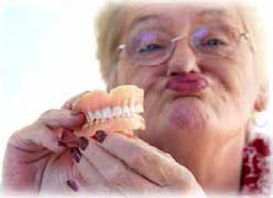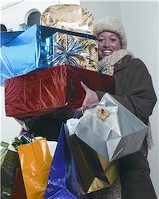 By ED BARK
"Denture Danger" -- Belo8
"You're hunting for good bargains, but you'll also be hunted at the same time." -- NBC5
"Shopping Center Shoot-out -- Images you'll see only on Fox4."
"You should be on high alert when you exit or enter your home." -- CBS11
And that was the good news.
There's seldom a shortage of crime, tragedy or dire consequences on any day's batch of late night D-FW newscasts. Still, Tuesday proved especially dispiriting, particularly to your faithful, obviously masochistic chronicler of all four stations' November "sweeps" offerings.
NBC5 anchor
Mike Snyder
did say it was OK, though, to eat "one or two Christmas cookies" without contracting the ugly wrinkles that sugar can cause. Thanks for that at least.
Some crime news obviously has to be reported. Some warnings should be issued. Some cautions should be taken. But Tuesday's late nighters collectively beat this viewer into mushy pulp, which by the way is known to cause baldness in laboratory rats.
NBC5 and CBS11 both led with hospital bed interviews of a 45-year-old woman who was attacked by two sub-humans while she bicycled along Katy Trail.
"They were actually beating me up, and enjoying it," the woman told both stations.
The Peacock next offered a "Golfers Attacked" brief while CBS11 segued to an elderly Fort Worth couple's tale about being mugged in their driveway. That's where the aforementioned "high alert" police safety tip came in.
Before teasing its exclusive "Shopping Center Shoot-out" surveillance video, Fox4 bragged about being "the only ones there" when a serial burglar named Corey Lee Caldwell was brought to jail. He fittingly was apprehended at an adult book store. Class act.
Belo8 medical reporter
Janet St. James
gave false teeth-wearers pause with a "Denture Paste Poison?" piece on how some stickums can cause nerve damage via their zinc toxicity. A poor old guy now getting around with a walker was submitted as evidence.
Earlier, Belo8's
Shelly Slater
made "some frightening finds" in the words of co-anchor
Gloria Campos
. Made-in-China children's jewelry available at several prominent retailers contains super-high concentrations of lead, Slater reported. A Sam Moon Santa pin had 730 times the allowed amount, according to a tester deployed by Belo8.
"Oh my gosh. So what does that mean?" a mom asked. It supposedly means that your kid could get really sick.
NBC5 offered a "Health Alert" on Tamiflu, which in very rare cases can be linked to "psychotic behavior" in children. Then came the sugar consumption scare followed by
Scott Friedman
's report on the perils of Christmas shopping at area malls. A security expert advised "hunted" consumers to drive to different parts of parking lots if they intend to resume shopping after putting their purchases in car trunks. Has it really come to that?
All four stations ganged up on the tragic death of a construction worker who was run down and killed by a conscience-less SUV driver. His grieving family rightfully demanded justice while cameras caught them in closeup.
NBC5 offered a charming update on the "Scarecrow Bandits," so dubbed because they wear floppy hats and flannel shirts during robberies.
Fox4 and Belo8 had briefs on a new Web site called bandittracker.com. CBS11's
Bennett Cunningham
had another followup on the potential dangers of the anti-smoking drug Chantix, being marketed as Champix in the United Kingdom. The station also reported on the alleged molestation of a four-year-old child by a teacher. And so on.
Watching all four newscasts, one after the other, obviously isn't the way most people experience the nightly goings-on at Fox4, NBC5, Belo8 and CBS11. Still, it's instructive. Crime, tragedy and consumer scares can't entirely be dealt out of any newscast. But they shouldn't be virtually the only games in town. On Tuesday night, though, that's pretty much the way it was.
THIS AND THAT***
Belo8 investigator
Brett Shipp
advanced his earlier exclusive on cheating allegations at South Oak Cliff High School. Those who reflexively doubted
his story's validity
should be persuaded otherwise by an open letter to DISD officials from the former English teacher of basketball star Kendrake Johnigan.
The teacher, John Yourse, said he was
coerced
by then school principal Donald Moten into fixing Johnigan's failing grade "for the sake of the school." The upgrade, from a 50 to a 73, enabled Johnigan to compete in the 2006 basketball playoffs and help lead South Oak Cliff to its second straight state championship.
This was very gutty reporting on Shipp's part, and he's taken plenty of heat for it. But his story seems ironclad at this point.
***
Another ace investigator, Fox4's
Paul Adrian
, concluded his lengthy and very informative two-part report on wide variations in property valuations. The stakes are high if you're a homeowner experiencing inexplicable major hikes in your taxes.
Adrian was bracingly fair to all sides. And his thorough job on an important issue shows what can be accomplished when stations are willing to invest in time-consuming, meritorious, non-showy storytelling.
***
CBS11 newcomer
Nerissa Knight
is the latest reporter to draw the short straw in the station's newly aggressive efforts to pander to women viewers. Her Tuesday night report on "hand beautification" at least played better than recent stories on cellulite-fighting soap and vaginal makeovers.
Still, who can afford this crap? A typical hand job costs $1,800 and isn't covered by insurance. In return you lose a few wrinkles. Let's get real.