Local Nielsen ratings snapshot (Fri.-Sun., Sept. 18-20) -- Cowboys crash through Emmys party with mega/jumbo numbers
09/21/09 10:46 AM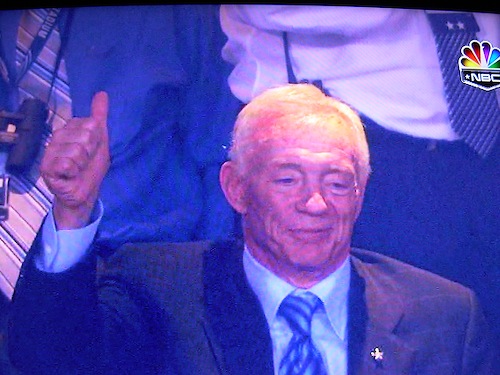 Jerry was a happy man until the bitter end. Photo: Ed Bark
By ED BARK
The agony of defeat had more than 1.7 million witnesses Sunday night while the agonies of defeats on the Emmys settled for peanuts.
NBC's
Sunday Night Football
, showcasing the grand regular season opener of Jerry's Palace, drew 1,700,608 D-FW viewers in dwarfing the North Texas audience for the previous Sunday's regular season kickoff at Tampa Bay (1,042,951 viewers on Fox).
The Cowboys' last-second 33-31 loss to the Giants pummeled the itty bitty Emmy awards on CBS, which drew just 166,075 viewers while ABC's presentation of
King Kong
had 86,359 watchers.
Of the Cowboys' viewership, 787,612 hit the demographic sweet spot -- advertiser-craved 18-to-49-year-olds. The Emmys, hosted by a game Neil Patrick Harris, had 71,306 viewers in this age range while
Kong
managed 32,412.
NBC5's late night Sunday newscast, which started around 11 p.m. after NBC's post-game show, fell to 418,509 total viewers, but still easily won its time slot.
Pro football as usual also ruled Sunday's afternoon hours, with CBS' down-to-the-wire Bears-Steelers game the biggest draw with 484,339 viewers. Over on Fox Sports Southwest, the Texas Rangers' early afternoon home loss to the Angels had 39,858 viewers. The team's post-season chances aren't officially impossible yet, but John Edwards has a better chance of winning Father of the Year. A dismal 2-7 homestand saw to that.
Saturday's biggest sports attraction, ABC's prime-time telecast of Texas vs. Texas Tech, clicked the Nielsen turnstyles to the tune of 465,010 viewers.
In Friday's local news derby, NBC5 came up big for most of the day, winning at 6 a.m. and 5 and 6 p.m. in both total viewers and 25-to-54-year-olds, the main advertiser target audience for news programming.
But the Peacock fell to second in both measurements at 10 p.m., where WFAA8 scored twin wins.
Night 5 of NBC's
The Jay Leno Show
won its 9 p.m. time slot, with ABC's
20/20
coming in second at that hour.