Picturing Megan Henderson -- one last time
04/08/10 11:06 AM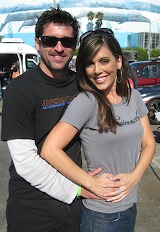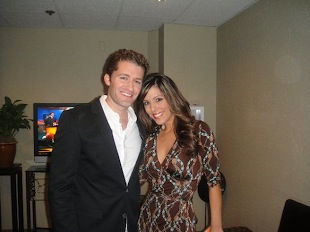 Hotties times two: Megan Henderson with Patrick Dempsey ("Dr. McDreamy" on Grey's Anatomy) and Glee star Matthew Morrison.
By ED BARK
Judging from readers' comments, a number of you still aren't over former
Good Day
co-anchor Megan Henderson, who left the Fox4 morning show in February 2009 to
join KTLA-TV
in Los Angeles.
Henderson's name invariably comes up whenever anything is written in these spaces about
Good Day
. Comments range from "Please come back" to "Get over it."
To which your friendly content provider says, "Get over it." She's not coming back, and why would she? As the above pictures from her Facebook page attest, Henderson is perfectly happy rubbing shoulders and clasping hands with picturesque actors. And the feeling no doubt is mutual.
Being seen with stars in L.A. likely beats mingling with Dallas mayor Tom Leppert while getting cross-eyed in the presence of his ever-present wide-striped suits. Henderson also is closer to home and family. She grew up in nearby Long Beach and San Clemente.
It's now more than a year since she left D-FW. Gone but not forgotten? Sure. But let's give her successor, Lauren Przybyl, a chance to rise and shine on her own merits. She's got a very tough act to follow, and maybe she wasn't the right choice. We'll see. But there isn't going to be any second coming of Megan Henderson. Fox4 was then. Posing with "McDreamy" is now.